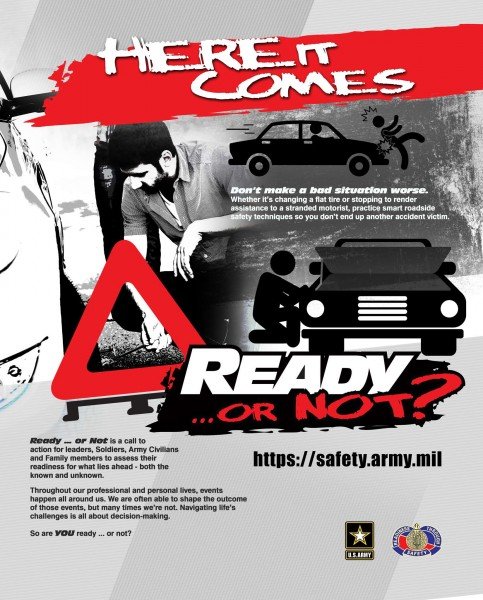 By USAG Stuttgart Safety Office
Ready or not, don't make a bad situation worse. Know what to do and be prepared to make the best decisions for your safety. Whether it's changing a flat tire or stopping to render assistance to a stranded motorist, practice smart roadside safety techniques so you don't end up another accident victim.
1. Get Out of the Way
The speed limit on major autobahns is 100 to 130 km/h, which makes it extremely hard for other motorists to make quick decisions. Consider your own safety first and get as far away from the rest of the traffic as possible.
Some highway shoulders are pretty narrow, so it's safer to stop in a designated rest area. When that's not an option, pull over on the shoulder of the road as far as safely possible.
2. Remain Visible
Make sure other drivers know you're there by wearing a reflective device or vest. Turn on your hazard lights as a signal of your distress. If and when you feel safe, carefully set up a warning sign, or a caution triangle from your roadside emergency kit to let other drivers and your roadside rescue truck know you're there. People often associate these items with collisions, so they'll instinctively drive more cautiously.
3. Watch Your Back
Passing traffic can't always maneuver into other lanes. It's safer to stay in the car, but if you have to get out do so on the shoulder (passenger) side to avoid more potential incidents.