By USAG Stuttgart Public Affairs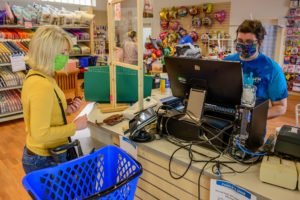 Stuttgart community members can expect an increasing number of on-post services to reopen in the near term, with plans being developed to allow for the safe reopening of additional services.
Facilities will reopen in a thoughtful and deliberate fashion, ensuring that our on-post services and community members are protected, said Col. Jason Condrey, garrison commander. "In many cases, it's not a date that's driving the opening—it's the conditions being set."
This means that re-openings on post likely lag behind an easing of equivalent restrictions in the state and local area. Community members' patience and understanding is appreciated.
The garrison command and staff are actively reviewing potential reopening plans and dates for other services and will announce these when more information is available.

These adjustments are possible only as a result of the vigilance and discipline of Stuttgart military community members, said Condrey, encouraging the continued practice of individual preventative measures.
Important note:
reopening dates are approximate and are subject to change based on staffing and other considerations. If conditions change and a reopening is not possible on a previously-announced date, updates will be provided on the Stuttgart Citizen and the
garrison Facebook page
. If specific dates are not listed for a service, please check back for updates which will be provided when confirmed.
All existing COVID-prevention requirements—including mask wear, hand washing/sanitizing, and physical distancing—must be observed while utilizing facilities.
---
Screeners
Health screeners will no longer be posted at installation access control points from May 9. Screeners will remain in place at entrances to critical, high-traffic services. Reinstatement at ACPs is possible if warranted by changes in the community's COVID situation.
Passport Office
The Passport and SOFA Office will be reaching out to clients whose documents are ready for pickup and thereafter begin opening for limited appointment services for customers with urgent support needs.
AAFES/Exchange Concessions
The following arrangements have been made in consultation with AAFES/Exchange management and, like all other services, are subject to change based on staffing and health and safety considerations.
Barber Shops:
Reopening on an appointment-only basis effective May 14, following an inspection by health professionals. Customers may call to make appointments starting May 13.
Click here for more information.
Beauty Salon:
The Patch Stylique Salon reopened on May 15, with service by appointment only. Appointments can be made via Facebook or at 0711-12084975.
The Stylique Salon at the Panzer Mall reopens on May 22, with regular opening hours of Thursday through Saturday, 10:00 a.m. to 6:00 p.m. Appointments are required. The preferred method of scheduling an appointment is via Facebook, but phone appointments can also be made at 07031-414382.
Kickz: Reopening Monday, May 11th. Hours of operation are Monday- Saturday, 10:00 a.m. to 6:00 p.m. Closed Sunday.
Military Auto Sales/MAS (appointment only): Reopening Tuesday, May 12th. Hours of operation are Monday-Saturday, 10:00 a.m. to 6:00 p.m. Closed Sunday.
Engraving & Trophy Shop: Reopening Tuesday, May 12th. Hours of operation are Monday-Saturday, 10:00 a.m. to 6:00 p.m. Closed Sunday.
H&R Block (appointment only): Tuesday, Thursday, and Saturday, 10:00 a.m. to 6:00 p.m.
Käthe Wohlfahrt: Monday-Saturday, 10:00 a.m. to 5:00 p.m.
We will soon have reopening information for Enterprise Rent-a-Car.
Kickz footwear, Käthe Wohlfahrt, and the trophy shop will reopen with limitations on the number of customers who can be in the space at once.
Family & MWR Services
Army Community Service: Beginning May 11, ACS began offering additional services such as information and referral, financial readiness, and translation — all by appointment.
VAT and UTAP: The office is open Monday-Friday from 10:00 a.m. to 5:00 p.m. Phone orders for VAT forms are also accepted to expedite pickup.
Stuttgart Golf Course: Reopened on May 11th with COVID mitigation measures. Operating hours are 8:45 a.m. to 6:00 p.m., Monday through Friday, and on Saturday and Sunday from 7:45 a.m. to 6:00 p.m.
Be sure to follow the MWR Facebook page and website for more details and further updates.
Thrift Shop
The Thrift Shop will look to reopen no earlier than May 14, with different measures in place for donation drop-off and entrance into the store.
Service Credit Union
Service Credit Union will reopen for controlled lobby services on May 26 (note: the date mentioned in the video below has since been updated to the 26th).
---