By Balmina Sehra
USAG Stuttgart Public Affairs
STUTTGART, Germany – Even with the added muscle of Garrison Commander Col. Matt Ziglar, Zuffenhausen District Mayor Saliou Gueye had to hand over his office to the Narren (fools) Saturday. As two costumed women dragged the mayor out of his city hall roost, Gueye was laughing and smiling because his arrest marked a special tradition during Germany's Fasching(carnival) season, and highlighted an important friendship.
The people of Zuffenhausen had just performed a Rathaussturm, an event where the Narren take over city hall, symbolizing the end of all order and the beginning of everything unorderly. This tradition has been celebrated in Zuffenhausen for over 16 years, however Rathaussturms as well as the Narren date back to the 15th century.
Narren often wear big, heavy costumes and wooden masks. They depict witches, devils and different kinds of animals – as they are the symbol of foolish behavior. The Narren will sometimes tease onlookers by stealing hair ties or rubbing black coal in their faces.
Andreas Goihl, president of the Karnevalsclub Stuttgarter Rössle helps organize many of Stuttgart's Fasching events. "What I like the most about [Rathaussturm] is making people smile," said Goihl. "We want to spread happiness across the residents, even if it's just for two hours where they do not have to think about any of their problems but can just have fun."
Gueye however refused to hand over his office to the Narren that easily, which is why he called for backup from his American counterpart. Ziglar without hesitation accepted the call to arms.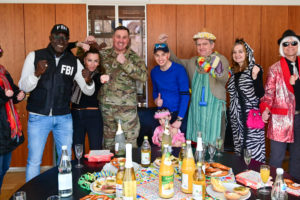 "This is my first time doing this and I am excited to be able to share this experience," he said. "The German-American friendship has been ongoing for decades in Stuttgart, and it always brings me so much joy to be able to welcome the Stuttgart Garrison here."
While standing on the balcony, Gueye, dressed in an FBI outfit addressed the fools. He told them that they stood no chance against him. Similar to a poetry slam, rhymes were exchanged between Gueye and the Narren, and no subject was off limits. After the verbal teasing between the symbols of orderliness and disorderliness, the Narren finally managed to enter the building and dethrone the district mayor.
Although this may have been a losing battle right from the beginning – even with U.S. military reinforcements, being able to celebrate together, according to Zuffenhausen Deputy District Mayor Karin Buschkühl, deepened bonds.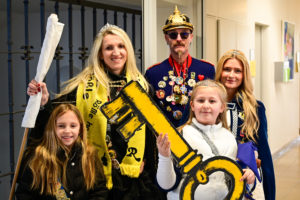 "The friendship between the Germans and the Americans is very important, we are still incredibly thankful to the Americans that they gave us democracy, the German nation will never forget that," said Buschkühl. "We're so happy that we can celebrate together and I think this is what the world needs today!"