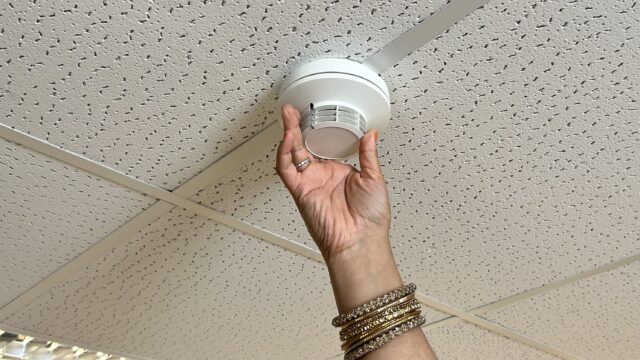 By John H. Campbell
USAG Stuttgart Public Affairs Office
U.S. Army Garrison (USAG) Stuttgart staff are working to replace an estimated 2500 smoke detectors in housing units across the region.
USAG Stuttgart housing officials awarded a contract in late 2022 worth more than $1 million to replace all family housing smoke detectors that are defective or are older than 6 years. Work has gotten underway on the project in the past few weeks, with staff reaching out to residents to schedule appointments for replacement of the detectors.
"(The replacement) takes a few minutes to go from room to room," said Theressa Hollivay, Family Housing Program Manager with USAG Stuttgart.  "It should take 20-30 minutes with the back and forth to the panel checking to see they are communicating correctly. If it goes longer, then they've run into a problem somewhere."
Smoke detectors in family housing units are hard-wired to power, so residents don't have to worry about replacing batteries.  For this project, interim measures were adopted as required by the Life Safety Code and applicable program regulatory guidance.
Additionally, Hollivay says crews routinely test the systems so residents don't have to worry about that either. Monthly visual checks and annual full tests are conducted on the systems as required.
"Resident safety is our primary concern," said Hollivay. "We try as much as we can to make people feel comfortable here."
Estimated completion for the project is late in 2023.
Those with questions on the effort to replace smoke detectors can contact Theressa Hollivay at DSN 314-596-2350 or by email at theressa.a.hollivay.civ@army.mil.