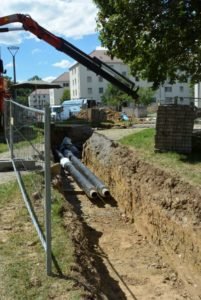 Work continues on the heating line replacement project at Patch Barracks.
The latest work, that included digging in the Kansas Loop area, is scheduled to wrap up around July 24, according U.S. Army Garrison Stuttgart public works staff.
Backfilling the area will continue through Monday, July 13. Then paving will begin, an effort set to last a week.
The ongoing project, which will improve heating lines to tenant organizations and housing units, will continue this Fall in the area near Arkansas Strasse.