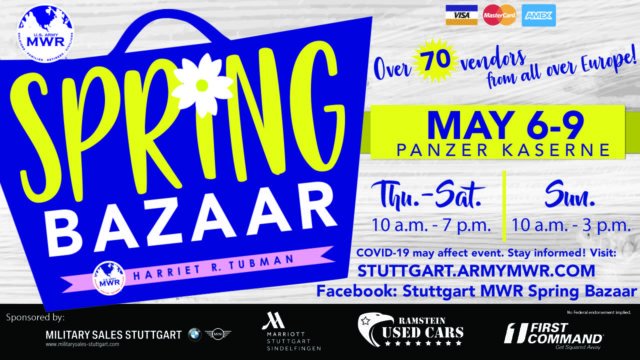 In support of the Spring Bazaar, the following roads and services will be closed:
From Monday, April 26, through Thursday, May 13, the road leading towards the dining facility on Panzer Kaserne, and the road in front of the 1-10th SFG(A) Headquarters, Monteith Strasse, will be blocked to allow for tent set up.
Beginning Tuesday, May 4, until Sunday, May 9, half of the Galaxy Bowling Center parking lot and all of the Panzer Fitness Center parking lot will be blocked.
From Sunday, May 2, through Sunday, May 9, the Panzer Fitness Center basketball court will be closed. Cardio equipment will not be available while the basketball court is closed.
For more information on the Spring Bazaar, visit:
Spring Bazaar on the Stuttgart Family & MWR website
Stuttgart Family & MWR on Facebook
Click here to schedule an appointment to shop. Appointments are not required, but will reduce or eliminate wait times at the door.