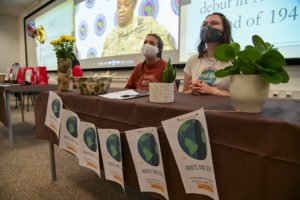 By Paul Hughes
U.S. Army Garrison Stuttgart
In April we celebrate the Month of the Military Child and Earth Month, and since one day the children will inherit this planet, the U.S. Army Garrison Stuttgart community youth are investing into that inheritance now.  
Emelie Patrick describes herself as a very compassionate person who has always been "super" into the environment. She said being a military child helps her understand how environmental issues affect different cultures through a "global point of view."
When she noticed that there was a lot happening to the environment that she didn't agree with, Patrick began looking for ways she could advocate for change. Her search led her to Heather Robertson, a Spanish teacher at the Stuttgart High School and once the Heidelberg sponsor for "Roots and Shoots," a global network of over 2,000 teams supporting young people affecting positive change in their communities. 
With Robertson's advice and sponsorship, Patrick founded the Stuttgart Roots and Shoots club.
"After going virtual because of COVID, we doubled our membership last year to include people from every grade," said Patrick, who believes it is easier for students to get involved in online evening events. "Right now we have 30 members, ranging in grades from sophomore to seniors."
Lockdown hampered the efforts of the group to get together, roll up their sleeves and physically drive forward programs with action. Instead of gathering for environmental clean-ups or information booths at public events, much of the activism took place online.
"Here in this school I have a platform that I can work with and there are plenty of amazing people whom I can collaborate with and learn from," Patrick said, referencing the many successful online calls she has had between students. Patrick even networked with U.S. Africa Command in conjunction with their women's mentoring program in 2020.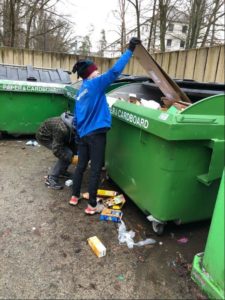 The club will begin working with the elementary school in the spring to inspire a younger generation of students to get involved. Once COVID restrictions relax, Patrick hopes to teach the students how to plant fruits and vegetables in the school's greenhouse garden.
While Roots and Shoots is busy promoting and raising awareness for environmental issues and encouraging young people to stand up for what they believe in, another 23 young members of our local Boy and Cub Scouts of America groups — adhering to all COVID precautions — took community action on post.
"One aspect of Scouting is service," said John Johnson, Scout Master, Troop 154. "Any Scout wishing to progress through the seven ranks of scouting must complete service hours, but the idea is not just to do it for the hours, but to learn the importance of giving back to the community."
Troop 154 organized trash pickup days to create a cleaner garrison, including a recent drive on Patch Barracks after a snow melt revealed a lot of litter. While the reaction to picking up trash wasn't initially one of excitement, the scouts realized their positive impact, not only on the community, but on the environment. 
"When they see what they have done and when they finish, they always exclaim that it was a lot of fun and that they enjoyed doing it." Johnson said.
The scouts and Roots and Shoots will continue working to better their environment through events and public info campaigns around U.S. Army Garrison Stuttgart.