By Julie Mitchell
Army & Air Force Exchange Service Public Affairs
Army & Air Force Exchange Service Deputy Director Mike Immler is making it his mission to ensure the Exchange is doing all it can to serve service members at U.S. Army Garrison Stuttgart.
"The Exchange is dedicated to making USAG Stuttgart a community, ensuring service members, retirees and their families have a place to shop and dine that they can be proud of," Immler said.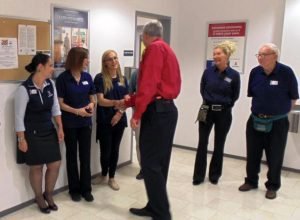 To better understand how the Exchange can best meet the needs of the community, Immler toured the main Exchange, food courts and Expresses during his visit July 13. He also met with Garrison Commander Col. Glenn Dickenson to discuss how the Exchange can best support service members and families at Stuttgart.
The Panzer Exchange recently opened a BE FIT shop, with the look and feel of a major sporting goods store. The concept shop features name brand athletic wear and footwear for men and women from national brands including Under Armour, Adidas, Nike and Brooks.
The Patch Express was recently upgraded, including an expansion of Snack Avenue. A new island cooler is stocked with good-for-you items for healthy eating on the go, including fresh fruit, salads and fruit cups.
If service members can't find the products they need in the main Exchange, they can go to shopmyexchange.com, which has been improved to make shopping and order fulfillment easier, Immler said.
"The Exchange online store is continually being updated to ensure the best brands are just a click away," Immler said. "Being able to shop the Exchange online for an expanded product assortment is a key part of our efforts to provide a consistent experience on the Internet or on the installation."
Every time service members shop at the Exchange or shopmyexchange.com, they are generating funds to help make life better at USAG Stuttgart.
"For every dollar earned, historically 67 cents comes back to the military community through the Morale, Welfare and Recreation dividend," Immler said. "Last year, sales at the Panzer Exchange generated more than $1 million on behalf of MWR programs. Every time shoppers buy from the Exchange, they are improving their community."
Immler is the first civilian deputy director of the 120-year-old organization, which employs approximately 35,500 associates worldwide. In addition, 35 active-duty service members are assigned to the Exchange.