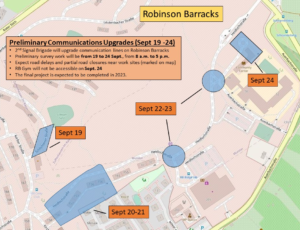 By USAG Stuttgart Public Affairs
The 2nd Signal Brigade will begin a preliminary survey for a communications upgrade project at Robinson Barracks from Sept. 19 to 24. The project, with expected completion in 2023, will provide added security and functionality to the installation, including an upgrade to the pedestrian gate.
The preliminary survey work will be conducted daily from 8 a.m. to 5 p.m., with partial road closures and delays expected (Please see the attached map for a day-to-day guide).  Additionally on Sept 24, the Robinson Barracks Fitness Center will be closed and inaccessible. We thank you for your patience and ask you to please plan accordingly.