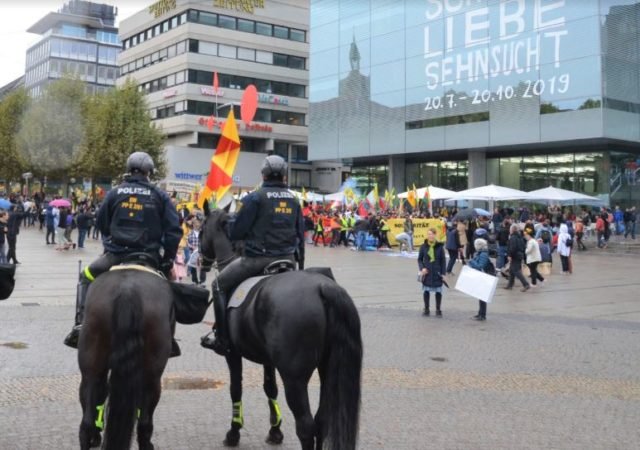 This Saturday and Monday, four registered demonstrations will be taking place in the Stuttgart downtown area.
On Saturday, 01 Aug between 1330-1400, 20-80 demonstrators are expected on Katharinenstrasse advocating for the "Wandering Tree Parkway"
Also on Saturday, 01 Aug between 1345-1615, around 25-35 demonstrators of the Russian Reference organization in solidarity with Belarus will be at the Schlossplatz.
On Monday, 03 August from 1800-2200 around 200 demonstrators with the SÖS Organization will be at Schillerplatz to remember the IS assault on 03 Sept. 2014 in Shingal, Iraq against the Yazidi population.
Also on Monday, 03 August from 1730-2030 between 50-100 demonstrators of the Democratic Kurdish Society Stuttgart will be observing the sixth anniversary of genocide and femicide against Edizinen (Yazidi) at the Schlossplatz.
All Military personnel, DOD members, Family members, and Contractors are strongly advised to avoid the demonstration area(s).
If a community member unexpectedly encounters a hostile demonstration, they should depart the area or seek shelter if they are unable to leave. Never become engaged with the protestors.
Follow host nation authorities and first responders guidance. While most demonstrations are intended to be peaceful, violence may occur. Agitators and counter demonstrators, unknown to event organizers, may also attend.
Carry a fully charged cell phone on your person with all necessary emergency numbers and contacts. (e.g. Polizei: 110, Fire/Medical: 112, Stuttgart Military Police Desk: 07031-15-3102)