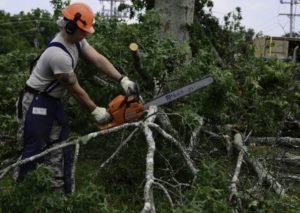 On Saturday, August 8, workers will be cutting and removing a dead oak tree on Kelley Barracks, by building 3312, according to U.S. Army Garrison Stuttgart's Directorate of Public Works.
Military police from USAG Stuttgart's Directorate of Emergency Services will block parking. Occupants of building 3313 and 3312 should make sure to not park in the area. Anyone entering 3313 should use the north entrance, so avoid the area.
The Community Bank and the barber shop are nearby, but both should be closed at that time. Pedestrians should also avoid the area when work is being done.