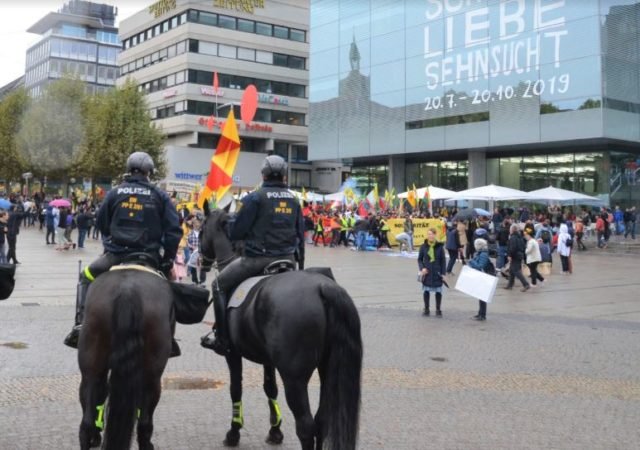 Four registered demonstrations will take place in Stuttgart on Saturday, as well as possible counterprotest activity.
Traffic disruption and road closures should be expected in the city center, especially in the area of the "city ring," and Bad Cannstatt.
The four registered demonstrations are as follows:
At the Cannstatter Wasen (fest grounds) in Bad Cannstatt, from 4-7 p.m., with approximately 2,500 participants expected
At the Rotebühlhof parking area at the tax office between Feuersee and Rotebühlplatz, from 11 a.m. with approximately 250 participants expected
At Börsenplatz (across from the stock exchange), from 1-5 p.m., with approximately 50 participants expected
At Wilhelmsplatz, near Rotebühlplatz, from 11 a.m., with approximately 200 participants expected.
USAG-S AT/FP recommends that all personnel avoid the aforementioned areas during the listed times.
All Military personnel, DoD members, Family members, and Contractors are strongly advised to avoid the demonstration area(s).
If a community member unexpectedly encounters a hostile demonstration, they should depart the area or seek shelter if they are unable to leave. Never become engaged with the protestors.
Follow host nation authorities and first responders guidance. While most demonstrations are intended to be peaceful, violence may occur. Agitators and counter demonstrators, unknown to event organizers, may also attend.
Carry a fully charged cell phone on your person with all necessary emergency numbers and contacts. (e.g. Polizei: 110, Fire/Medical: 112, Stuttgart Military Police Desk: 07031-15-3102)