Story by Paul Hughes
USAG Stuttgart Public Affairs
Patch Library
You've watched everything on your streaming service, read every book in your bookcase and played every game in your sideboard. Well here's some good news for you. As of May 5, the library becomes another lifeline, in the battle against boredom.
 "We are glad to be back and providing services for our community" said Raechele Butler, Library Technician.

Library Technician Raechele Butler assists a customer at the Patch Library.
To find out what's available to borrow, click here and select "Stuttgart" from the drop menu in the upper right corner to narrow your search.
You can request up to 10 items per library card. Additionally, all due dates for any library materials you may have already checked out, are extended to June 30. If you do not yet have a library account, send the library office an email to get set up.
Patch library's new process ensures the safety of the community by only accepting requests via their contact us page, there is no walk in service and you must wear a wear a face mask when visiting the facility.
Check the patch library website for opening hours. To reserve books, click here. 
Arts and Crafts
Making your own facemasks and whiling away the hours with your favorite hobby is now back on the cards, as the Arts and Crafts centre has a limited reopening today.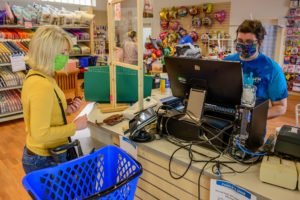 Krystina Munoz, arts and crafts floor manager, had resorted to helping out many customers online.
"It's great to be back and helping in person" she said.
You can get your Retail Merchandise, Balloons, Ceramics and Framing needs taken care of and for full information on the requirements at the center, please check their website.
Community member Kara Mason said,
"I can now add another "exciting" thing to my life after the norm of the last few weeks."
The information in this article is correct as of May 5, and is subject to change. For the most up to date information visit the patch library website, or the arts and crafts website