By Rick Scavetta
U.S. Army Garrison Stuttgart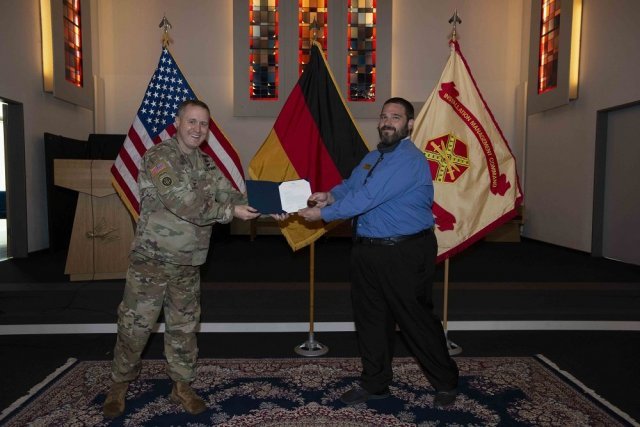 Before coronavirus restrictions halted travel, a lodging guest coughed near Colleen Brown, a hotel staff member. That guest later tested positive for COVID-19, forcing Brown to quarantine.
Brown, later medically cleared after testing negative, volunteered at the Kelley Barracks hotel, which was quarantine and isolation lodging for service members in transit–a critical role within U.S. Army Garrison Stuttgart's efforts to contain the spread of COVID-19.
"Throughout the process, she remained positive and was eager to return to work," said Joe Johnson, director of Family and Morale, Welfare & Recreation, the garrison directorate that oversees lodging.
Brown was among the DFMWR employees recognized during a June ceremony, along with several of her colleagues from lodging and Child and Youth Services. For their efforts supporting the garrison during COVID-19 operations, each employee received a letter from Gen. Gus Perna, commander of U.S. Army Materiel Command and his challenge coin. Col. Jason Condrey, USAG Stuttgart commander, said he felt privileged to represent Perna and shared the four-star notes.
"Your presence was noticed, and it was felt. Without you, we wouldn't be where we are today."
"It's important to recognize members of our team who stepped in front of this and continue to be front and center. I want to say thank you," Condrey said. "Your presence was noticed, and it was felt. Without you, we wouldn't be where we are today."
Condrey told the physically-distanced crowd who gathered in the chapel on Panzer Kaserne, that the praise from senior leaders and community members should really go to the work force.
"It's because of your efforts," Condrey told the award recipients. "I want to extend those thanks and the compliments."
Lodging staff recognitions
Christopher Morris, Army lodging manger, led the lodging team during the COVID-19 crisis by motivating employees to maintain services. Morris implemented quarantine and isolation facilities and COVID-19 procedures, coordinating efforts with leadership and medical staff.
"His constant presence in the facility impressed upon his staff that he was willing to work in the same environment he was asking them to work in," Johnson said.
Andera Yaninek volunteered to work at both the Kelley and Panzer hotels, filling a critical role to help keep the hotels operational and its customers well cared for. Michal Knef helped close Kelley Hotel and move guests to the Panzer Hotel. She worked with guests to implement quarantine measures and worked countless hours to support the community.
Michael Marzett was instrumental in distributing and acquiring critical supplies and resources for the Panzer and Kelley Hotels, often giving up his nights and weekends. He stood in long lines at local stores to get dehumidifiers, masks, and respirators for lodging staff.  He also helped fellow staff during times of quarantine and isolation. Donald Ellis quickly sourced important supplies such as disinfectants, sanitizers, masks, gloves, toilet paper and other daily hotel necessities. That meant working with multiple vendors to maintain stocks.
Child and Youth Services recognition
As COVID restrictions set in, Katie Fox, the CYS nurse, worked long hours and some weekends to implement sanitation practices to keep the children and staff healthy. When CYS shut down, she maintained communication with medical professionals and informed staff on the latest healthcare guidance on preventive measures.
As the acting CYS Coordinator, Jeff Carpenter was commended for his tireless commitment to CYS employees – many of whom were frontline screeners at high traffic service areas within the garrison. He would check on them daily, making sure screeners had protective gear and cleaning supplies. Laura Kussmaul created the schedule for screeners, who were posted to the community mail rooms, food courts and convenience stores. Scheduling was often a challenge as the community restrictions often changed hours.