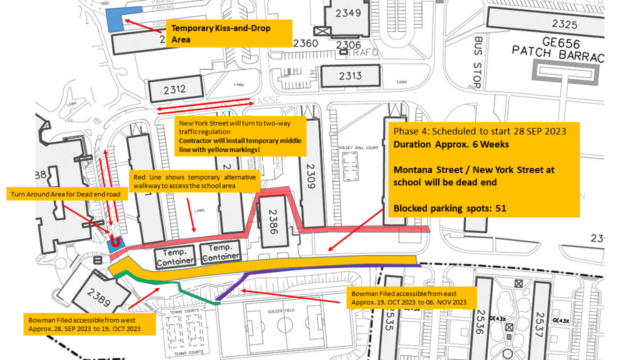 Information provided by USAG Stuttgart Directorate of Public Works
A sewer replacement project on Patch Barracks will temporarily impact traffic patterns and pickup/dropoff procedures around the installation's elementary and middle schools starting Sept. 28, 2023.
During this time, Montanastrasse will be closed to traffic between the Patch Middle School gym and the intersection with Michiganstrasse/Kansasring. A dead end with turning area will be located near the gym. Parking spots along this stretch of Montanastrasse will not be available for use, but Bowman Field will be accessible through pedestrian walkways through the length of the project.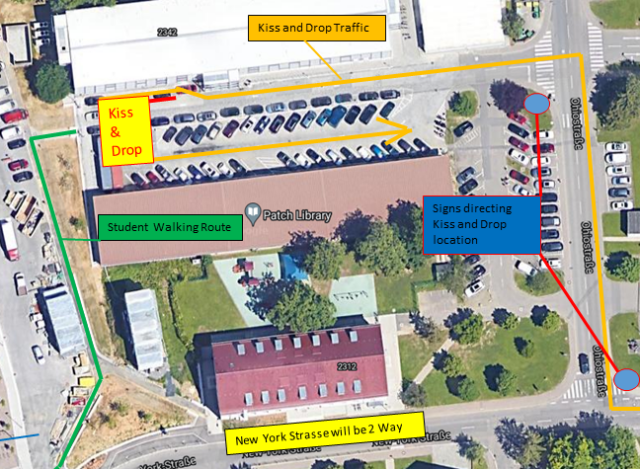 The "Kiss and Drop" areas for Patch Elementary and Patch Middle Schools will temporarily move to the space between buildings 2342 (Patch Library) and 2343. Access is available via Ohiostrasse. Signs and Military Police officers will be in place to direct parents/guardians.
New York Strasse will revert to two-way traffic in front of building 2312, with lane markings and signage adjusted. However, this only leads to the bus loop area in front of Patch Middle and should not be considered a thru street. Buses will enter and leave the loop areas via New York Strasse.
A temporary walkway will be available to and from Patch Middle during the closure of the normally recommended walking path.
This work was originally slated to begin Sept. 25 but was pushed back pending the approval and completion of various traffic and pedestrian safety measures. As always, the project team has sought to minimize impacts from this important infrastructure work as much as possible. Please drive particularly carefully as the temporary changes come into effect and follow all posted signs and official instructions.
The project is anticipated to be completed Nov. 6.