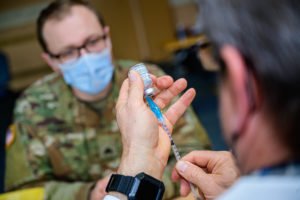 Tomorrow, Thursday May 6, at the Patch Theater, from 3 p.m., to 4.30 p.m., the one shot Janssen (J&J) vaccine is being given on a walk in basis for eligible members of our military community. Priority is being given to PCSing personnel, as this vaccination does not require a follow-up shot.
Getting the shot now will see community members protected from COVID-19 at the end of the two-week period, meaning they may be able to enjoy increased relaxations to host nation and garrison COVID restrictions in the future.
Please note, Local National employees are now eligible for the vaccine. Due to host nation regulations, they must be seen in separate clinics to US military members. Those who want to get vaccinated must have submitted their interest for vaccination through their leadership in order to be vaccinated. Once this has been completed, LNs will be asked to be at Patch Theater between Thursday May 6 between 2 p.m., and 3 p.m. If you have not submitted your name through your leadership, you may be turned away.