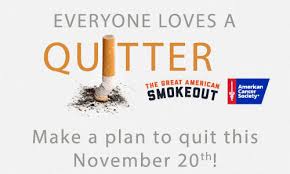 Join Stuttgart Public Health to help a friend or colleague quit Tobacco for the day during the Tobacco Free Stuttgart "Great American Smokeout" Nov. 20, 2015. Commit to quit!
Come by the Panzer Kaserne Main Exchange from 11:30 a.m. to 2 p.m. to pledge to be tobacco free for 24 hours, exchange cigarettes for a 10% off Nicotine patches and Nicotine gum.
For information call Army Public Health Stuttgart at DSN: 590-1602/civ, 06371-9464-1725.