USO Center Stuttgart
If you're looking for something to do in the next few weeks, look to USO Stuttgart.
Arrrgh, matey! The USO Center hosts "National Talk Like a Pirate Day," 1-3 p.m., Sept. 19, serving up seaworthy snacks. This is another quirky, actual nationally recognized day made fun by the USO.
Also on Sept. 19, the Friday Fill Up will be on Kelley Barracks. Enjoy complimentary coffee, fruit and a muffin to kickstart your day starting at 7 a.m. Look for the USO banner.
This month's family friendly-movie night at the USO Center is actually a matinee (2:30 p.m.), Sept. 21.  "The Greatest Showman" is fun for all ages. Enjoy the film with some of the USO's fresh and famous popcorn.
On Sept. 25th, come to the Panzer Chapel annex, 10 a.m. to noon, for a small gathering of spouses. Connect with each other over a cup of coffee and a snack; play a little Family Advocacy Plan bingo, do some networking, share advice, discuss local events and make new friends. Learn about SpouseLink and what it can do for you. All spouses are welcome to attend and receive a small gift.
Overwhelmed by travel plans? Let Wendy Payne help you with "Traveling Smart." She'll share travel tips from planning to execution, safety, best times to travel, and how to find the deal you're looking for. Be at the Patch Library, 2–4 p.m., Sept. 23; passport not required to attend.
Yet another interesting day, National Fluffernut Day, features a mixture of peanut butter and marshmallow fluff for dipping crispy rice treats. The fluffernut fun takes place at the USO Center, 11:30 a.m., Oct. 8, until supplies are gone.
On Oct. 26, join the USO's travel partner, Interra Reisen, for a day trip with city tour of Paris. Flyers for this and other adventures are available at the USO Center.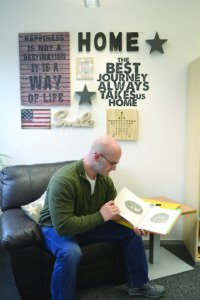 There's no set date to record a reading to send home, along with a book, for the Bob Hope Legacy Reading Program. This program helps deploying or unaccompanied Stuttgart military community members keep in touch with their families. Ask about it at the USO Center and make
Find out more or register to attend events through the USO Facebook page or website.