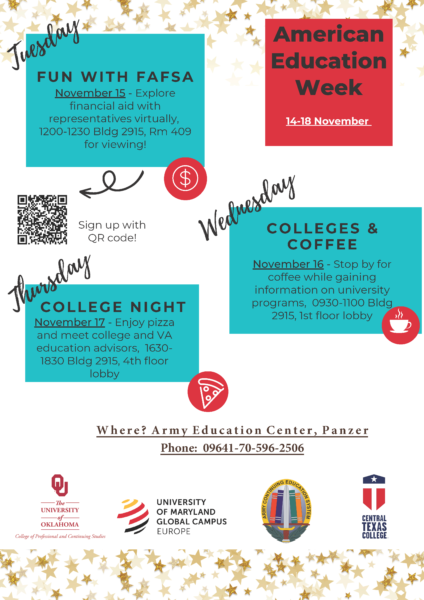 Information provided by USAG Stuttgart Continuing Education Center
The Army Education Center on Panzer Kaserne is celebrating American Education Week, from Nov. 14-18, 2022, with several events open to the garrison community:
Tuesday, Nov. 15:  Fun with FAFSA

Explore financial aid with representatives virtually
noon – 12:30 p.m., Bldg. 2915, Rm 409

Wednesday, Nov. 16: Colleges & Coffee

Stop by for coffee while gaining information on university programs
9:30 – 11 a.m., Bldg. 2915, 1st floor lobby

Thursday, Nov. 17: College Night

Enjoy pizza and meet college and VA education advisors
4:30 – 6:30 p.m., Bldg. 2915, 4th floor lobby
For more information, visit the Continuing Education Center's Facebook page or call (0) 9641-70-596-2506.