Host Nation Update, Nov. 14, 2022
Several states plan end to mandatory COVID isolation
The health ministers of the German states of Baden-Württemberg, Bavaria, Hessen, and Schleswig-Holstein announced on Friday, 11 Nov 22, that they would no longer require persons who have tested positive for COVID-19 to remain in isolation. In the view of these four states, it is time to enter a new phase for dealing with the pandemic as Germany goes through a transition to an endemic situation. The health ministers agreed on the new recommendations, which will soon go into force in amended regulations in the individual states, and the states are currently staffing details of the change, which are expected to include limited mandatory mask wear for positively-tested persons and other urgent recommendations. In enacting the change, the four states are following the example of neighboring countries, such as Austria, which have implemented similar rules without any recognizable negative consequences. (B-W, Nov 14) 
National Day of Mourning in Stuttgart – Commemoration of victims of war and violence
At the ceremony, which was also attended by the City Guard on horseback and the Cannstatt Civic Rifle Corps, Mayor Frank Nopper, State Secretary Wilfried Klenk of the Ministry of the Interior, Colonel Thomas Köhring, Commander of the Baden-Württemberg State Command, Commander Colonel Matthew Ziglar of the U.S. Army Garrison, as well as representatives of the German War Graves Commission laid wreaths at the field of honor of the airmen victims, where more than 800 names were commemorated. Mayor Nopper emphasized that the war in Ukraine had made painfully aware "that we were too little vigilant and had hoped that having eternal peace may be granted without much effort or sacrifice." He therefore called Volkstrauertag a "day of warning to all those who are indifferent and sleepwalking." "Our lives are marked by reconciliation," Alice Bergmann and Megan van Niekerl, students of the Hegel Gymnasium, set a signal of hope in their tribute to the dead. The ceremony was musically accompanied by the 28th Reservist Music Corps, Ulm. (Stuttgarter Nachrichten, Nov 14)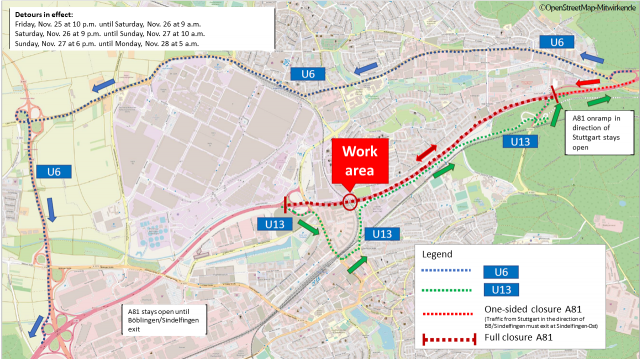 Sindelfingen / Böblingen: Nighttime Closures on the A81 from November 25 to 28
Sindelfingen/Böblingen. For the expansion of the A 81 Autobahn to six lanes, Deutsche Bahn is renewing the Rankbachbahn railroad bridge at the Sindelfingen-Ost / Böblingen area. DB is investing around 24 million euros in this project.
On the last weekend of November 2022, DB will completely dismantle the formwork that was necessary for the new construction of the bridge.
In addition, the railroad is installing the bridge drainage system and carrying out the main bridge inspection in the area of the A 81. This will require a closure of the A 81 in both directions between the Sindelfingen-Ost and Böblingen/Sindelfingen junctions for three nights:
– On Friday, Nov 25 from 10 p.m. until Saturday, 26 until 9 a.m.
– On Saturday, Nov 26 from 9 p.m. until Sunday, Nov 26 to 10 a.m.
– Sunday, Nov. 27, from 6 p.m. until Monday, Nov 28 to 5 a.m.
(BB.heute.de, Nov 14)
On 14 and 15 November in Sindelfingen – ADAC offers free car check-up
Motorists from the BB/Sindelfingen area can have their vehicles checked free of charge in an ADAC check-up unit on November 14 and 15, the ADAC has announced. The box, integrated into a truck more than ten meters long, uses innovative digital technology to check tire tread depths, brake force, shock absorbers and brake fluid, among other things – as far as is technically possible for the vehicle. Important: The maximum clearance height is 1.80 meters. The truck will be parked this Monday and Tuesday in parking lot P2, Rudolf-Harbig-Strasse 10. The inspection team will be on duty from 10 a.m. to 1 p.m. and 2 p.m. to 6 p.m.. A mobile electricity charging station is also available during this period. The highest safety and hygiene standards are implemented during the tests, which may lead to longer waiting times. (BB.heute.de, Nov 14)