By John H. Campbell
USAG Stuttgart Public Affairs Office
When John Hamilton, the Community Recreation Officer for U.S. Army Garrison Stuttgart was in the region on a previous assignment, he took notice of the condition of the running surface at Husky Field on Patch Barracks.
"It was poor, at best, when I was here a decade ago," said Hamilton.  "Now, it's poor times ten."
Not for much longer, the garrison plans to replace the running track and install new LED lights over the next year.  Work is expected to get underway in the coming weeks.
"Right after spring sports season is over, we will start working on Husky Field," said Corinna Fritz, Project Engineer in the garrison's Directorate of Public Works (DPW).  "Throughout the period of construction, the field will be closed to the public." 
The original plan was to only upgrade the lighting at Husky Field, but planners found an opportunity and the funding to replace the track as well.
"This was a target of opportunity, to do it correctly, and only have one period of inconvenience," said Terry Walker, Chief of Engineering in DPW.
When the work is done in late 2023, Hamilton says people should expect a phenomenal running surface and a well-lit field.  
"They're going to upgrade the whole thing," said Hamilton.  "It's going to be one of those surfaces that people will WANT to do PT on.  We're very excited."  
Hamilton says work continues on the Patch Fitness Center next door to Husky Field.  The project recently entered Phase 2 of the renovation, which means a lot of equipment has been relocated in the facility.
"A good 70 percent of our fitness facility is shut down because they're installing the new HVAC and fire suppression system," said Hamilton.  "We've had to move equipment.  Unfortunately, we can't move it all to the basketball court.  We're trying to consolidate and offer as much variety as we can to customers on Patch Barracks."
Additionally, Hamilton says work will begin soon to replace cardio equipment in ALL of the garrison's fitness facilities.  
"We received approval for $400,000 worth of new cardio equipment," said Hamilton.  "The goal is to replace just about every piece of cardio equipment we have in inventory."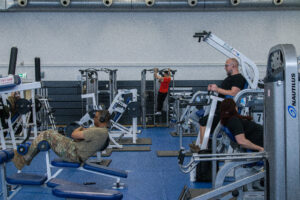 Hamilton says the replacement equipment may take the better part of six months or a year before it's all installed.  He says the equipment is being built in the United States and then has to be shipped over and installed.
The final piece of news on the fitness front is an expansion of the facility at Kelley Barracks.  Plans call for the project to start later in 2023.  The impact to the building should be minimal as the project calls for new construction to be added to the existing facility.
"We're hoping to add new functional fitness space to be able to allow people to train and offer more equipment than we currently have at Kelley," said Hamilton.  
Members of the military community will have the opportunity to showcase their fitness ability (or run for fun) on May 13 at the "Rock the 80's" 5k fun run to be held at Patch Barracks.  
"We have a very avid running population," said Hamilton.  "A lot of installations with younger demographics also have runs, but you don't see the same type of zest for that type of event as you do here in Stuttgart."
For more information on fitness programs and facilities in the region visit the USAG Stuttgart Family and MWR website at stuttgart.armymwr.com.