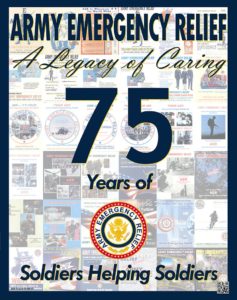 This year is the 75th Anniversary of Army Emergency Relief (AER) "Soldiers helping Soldiers." AER is a private nonprofit organization incorporated in 1942 by the Secretary of War and Army Chief of Staff. AER's mission is to provide emergency financial assistance to Soldiers and their families.
The 2017 AER fundraising campaign will run March 1 through May 15, with an official kick-off event scheduled March 1 at the U.S. Army Garrison Stuttgart's community and mission partner installation staff meeting, at 9 a.m. at the Kelley Club, Kelley Barracks.
The AER program provides benefits to service members in time of financial emergencies. The primary goal of the AER campaign is 100-percent contact with all active-duty Soldiers, Army Reserves, along with retirees and their family members. Civilians, contractor and other community members from military branches may contribute to the AER Campaign.
Throughout the campaign period, fundraising events will be held to not only raise money for the campaign, but to promote awareness of the AER programs. Of every dollar contributed, 87 cents goes to help your fellow Soldier.
If Soldiers wish to donate, the best way is to find their unit representative. They can elect to make a one-time donation or have an allotment out of their pay. Donations may also be made online at aerhq.org.
Since its inception after World War II (1942), AER has provided more than $1.7 billion in interest-free loans and grants to more than 3.7 million active-duty, National Guard and Reserve Soldiers
2016 Army-Wide Financial Assistance Provided:

36,000 Soldier and family assistance cases included:
$54 million interest free loans/grants
Assisted more than 1,100 Wounded Warriors (2.8 million)
13% of all assistance provided were Grants
8% of active duty force received AER assistance
College Scholarships:
$7.5 million (children)
$2.5 million (spouses)
The total donation in 2016 was 12.2 million; 8.9 million from active duty.
Emergency Relief cases:
$63,330.37 Interest free loans
$1,472 Grants
$64,802.37 Total Assistance
ER College Scholarships:
$16,400 (nine Stuttgart children)
$5,200 (two Stuttgart spouses)
Soldiers needing AER financial assistance or interested in contributing to AER can contact their AER unit representative, go to USAG Stuttgart's AER office in Bldg. 2915, Panzer Kaserne, Room 208 or for more information, call DSN: 431-3362.