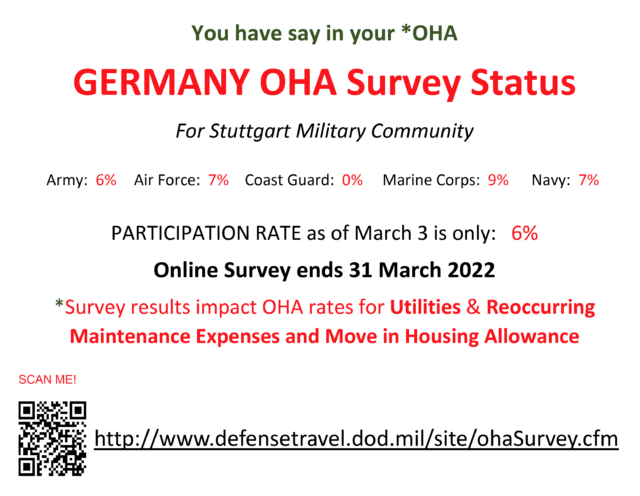 U.S. Army Garrison Stuttgart community members are invited to assist in completing the Overseas Housing Allowance (OHA) survey up until March 31. This survey is used to measure utility/recurring maintenance and move-in expenses incurred by you and your family, as a military member stationed overseas residing in private housing.
"The participation rate this year is actually lower than what is needed to get a comprehensive view of the current cost of living," said Rachel Doran, locality coordinator for the survey. "We need more people to respond if there are to be any impact on decisions that have to be made in order for there to be any increase to OHA." 
The survey can be completed in under 15 minutes and the data collected assists in the determination of Overseas Housing Allowance (OHA) paid to eligible members of the USAG Stuttgart community. It is critical to ensure OHA rates for the Utility and Recurring Maintenance Allowance portion are properly set for Service Members (SM) assigned throughout Germany and the results of the survey directly impact the amount of housing allowance each SM receives.  
"We are asking for all military (Army, Navy, USAF, USMC, USCG) personnel who have been stationed in the county for at least 3 months; all military personnel who receive OHA; all military personnel who reside in privately leased homes to take the 15 minutes to respond," Doran said. "It is voluntary. However, maximum response is encouraged so that data will be representative of the cost of living in Germany."
How to complete the OHA survey
Scan the QR code in the picture above or click here to be taken to the survey: http://www.defensetravel.dod.mil/site/ohaSurvey.cfm. The estimated time to complete the survey is no longer than 15 minutes.
Spouses can complete the survey as long as their family is getting OHA, on behalf of their Service Member if the SM is unavailable – no DOD I.D is required to log on.
This year's survey will capture actual utility expense and recurring maintenance expense amounts provided by participants, referencing utility bills and receipts for maintenance expenses or estimates of these expenses.
Reportable Utility/Recurring Maintenance expense items include the following:
Electricity; Natural gas for heating and cooking; bottled gas; Other household fuels such as kerosene, heating oil, coal, firewood; Sewer; Trash; Running water for residence; Bottled water for drinking; Rental insurance required by custom, law or lease; Maintenance and repair costs (excluding yard or lawn maintenance)     
The OHA Survey web link will be available until 31 Mar 2022.