Post Tagged with: "4th of July"
Volunteer with FMWR to help out with the 4th of July festivities.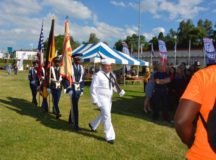 Warriors of all U.S. branches who served in the 1960s/1970s were often overlooked or worse during Vietnam era and the intervening years since the war officially ended, April 30, 1975.
By Greg Jones
USAG Stuttgart Public Affairs Office
Thousands gathered at Patch Barracks for family fun, food and fireworks to celebrate Independence Day July 4. The community's festivities began in the morning with a 5k fun run around the perimeter of Patch Barracks. Participants included everyone from serious runners huffing and puffing the 5k in under 20 minutes, to families with toddlers gleefully traipsing across the finish line some time thereafter.