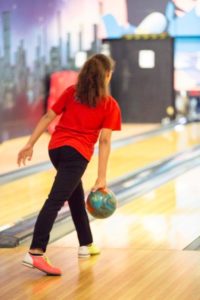 By John Reese
USAG Stuttgart Public Affairs Office
In a cliffhanger ending to the Regional Pepsi Youth Championship of the U.S. Bowling Congress Junior Gold Championships at Spangdahlem Air Base, March 26, Stuttgart student Kayla Mitchell, 12, bowled her way to victory in the 10-12-year-old girls' bracket.
Mitchell competed in the USBC annual local qualifier and regional Pepsi Youth Championships against 20 other girls. After two days of competition and bowling a total of eight games, Mitchell finished in first place and won more than $400 in college scholarships.
The first round of semi-finals took place in Vogelweh on Feb. 25. Mitchell out-bowled 20 other girls in her bracket in the local qualifier and set a personal best with a high game of 192 and a three game series of score of 474.
The European regional competition, held at Spangdahlem Air Base, featured the top four girls in Mitchell's bracket from qualifiers. Mitchell was up 12 pins on the nearest competitor after the first game of a four game series.  After game two, she was up 13 pins. But in the third game, a junior bowler named Amelia from Kaiserslautern came storming back to tie the total with Mitchell going into the last frame.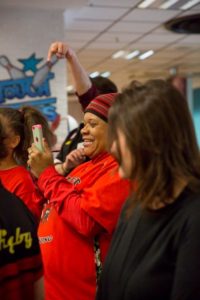 "At one point I felt scared that I was going to lose, especially when it came down to the extra game due to the tie at the end of game four," Mitchell said.
In the last frame of the final game, Mitchell needed to spare and then get nine pins on her final roll to win the tournament. She proceeded to get the spare, but only got eight pins on her final ball. Now the girls were tied with a total pin fall of 552 pins after four games.
"What kept me going and not giving up was thinking about the opportunity of continuing on to the United States and representing Stuttgart if I won," Mitchell said. "Also, thinking about my parents, my coach and how they tell me to never give up on my dreams, and then at the end seeing everyone with tears of joy made me happy."
After a review of the rulebook, the tournament director said a fifth and decisive game roll-off was required in order to determine the winner.  The girls again bowled another pitched battle up until the end.
"Y'all had to be there," said Virginia Kozak, one of more than 100 spectators and spouse of Mitchell's bowling coach, Mike Kozak. "We were sweating and shaking. It was so close … it was out of this world!"
At the end of the roll-off, Mitchell needed to spare in the ninth and tenth frames and get at least four pins on her final roll to win. She did this calmly, cool and collected as parents and children watched and cheered over her shoulder. Her mother, vice president of the Stuttgart Youth Bowling League, was impressed by the enthusiasm of the spectators.
"The overall experience of witnessing so many strangers coming together, cheering on my daughter, was such a surreal moment in time," LaRona Mitchell said.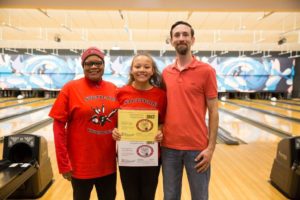 In addition to the scholarship money, Mitchell will now advance to the USBC Junior Gold Championships, July 17-21, in Cleveland, Ohio, where she'll compete against more than 120 female youth bowlers.
Annually, the youth bowling league (ages 2-18) takes place Sept.-March. Stuttgart community members interested in supporting the young bowlers are invited to stop by a booth during the USAG Stuttgart Care Fair, Aug. 26.
Editor's note: All information for this story was provided by Stuttgart Youth Bowling League Coach Mike "Zak" Kozak, a USBC Bronze certified coach with more than three decades of bowling experience and four years of coaching experience.