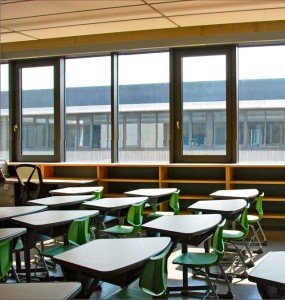 By Department of Defense Education Activity
Stuttgart area registrar offices
On a daily basis, families move in and out of the Stuttgart area. Many of these families have children registered in one of the area's Department of Defense Education Activity schools.
When it is time to make a Permanent Change of Station, families with children in the DoDEA school system are required to withdraw their children from school before their departure.
Regular withdrawal
To facilitate the withdrawal process, parents must contact the school's registrar at least 2-4 weeks prior to their departure date. This provides time for the school to secure student's academic records for the next school.
When students depart prior to the end of the school year on early withdrawal, parents are required to complete a withdrawal form and submit it to the registrar with a copy of PCS orders.  Families departing on or after the last day of school are not required to submit PCS orders.
The withdrawal form allows the option of the family hand-carrying the records or asks the school to mail them to the new receiving school. It is highly recommend that families hand-carry the students' academic records to the new duty assignment.
Accelerated withdrawal
During certain times of the year, students may find the need to request accelerated withdrawal. Accelerated withdrawal is designed for students enrolled in courses that grant credit for high school graduation, primarily high school students and some middle school students.
Accelerated withdrawal is requested as far in advance as possible to provide time for students to complete necessary course work to meet standards of learning prior to departing Stuttgart.  Upon successful completion of accelerated coursework, students are granted credit for the semester.  This ensures that high school students do not miss out on credits due to PCS moves.
Students in middle and elementary school may also request accelerated withdrawal, however, it is optimal for all students to enroll in school upon arrival to the new duty station.  Accelerated withdrawal should not be used as an opportunity to take extended vacations in conjunction with PCS, as this extended time out of school is detrimental to the education of the student.
The spring accelerated withdrawal date for DoDEA schools in Stuttgart begins May 19.  If PCS orders require a move between May 19 and the end of the school year, notify the school's registrar and submit a copy of PCS orders 30 days in advance for approval of accelerated withdrawal. This ensures that students are afforded the additional time needed to show mastery on standards and objectives for coursework.  Additionally, the student must attend school all day on the day prior to the withdrawal date.
For additional information, contact your respective school's registrar.