By Moneé Luckey
Volunteer, USAG Stuttgart
The U.S. Army Garrison Stuttgart Religious Support Office (RSO) encouraged children to get shipwrecked during its Vacation Bible School (VBS) session on Robinson Barracks July 29 – Aug. 2.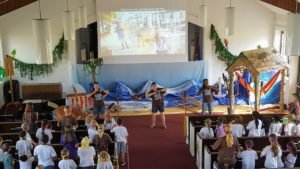 After a few years' hiatus, the five-day summer program returned to the RB Chapel with music, bible stories, and an array of activities. This year's theme, "Shipwreck: Jesus Rescues," taught children that through daily challenges, God can rescue them.
"The theme 'Shipwrecked: Jesus Rescues' is really important, especially for the military community. It addressed daily issues such as loneliness and worrisome. When those issues occur, Jesus rescues," said Brian Merry, USAG Stuttgart Religious Support Office. "Those are things that the kids can relate to when they're moving around and trying to make new friends."
Six-year-old Kayla Henson agreed with Merry, saying, "I really liked the singing and making new friends."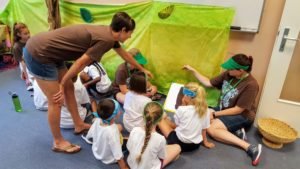 Adult and youth volunteers rotated some 60 children through four different stations. At each of the stations, the children participated in group discussions and hands-on educational activities as well as experiencing religious-themed topics such as Bible Discovery, Imagination Station, KidVid Cinema and Ship Rec Games.
"I like to volunteer with VBS to help kids get to know Jesus. I can get to know Jesus better and we can all have a great time doing it," said Jaime Showers, a volunteer with the VBS program. "It's really fun seeing their faces light-up and having a good time."
VBS is also supporting the religious support office's special outreach mission on Haiti. At the KidVid Cinema station, the children watched a short video that not only incorporated the theme for each day, but it also helped the children connect with what is going on in the world.
"The video helped them understand what people in Haiti are going through with the turmoil and recovery of the hurricane and the devastation that has hit the island," stated Merry.
For more information about the USAG Stuttgart Religious Support Office and its programs, visit: www.stuttgart.army.mil/services-rso.html.