DoDEA Europe Public Affairs
News Release
Two Department of Defense Education Activity teachers in the Stuttgart military community, one at Robinson Barracks Elementary School and the other at Patch Middle School, will be honored with presidential awards for their excellence in teaching or mentoring in science, technology, engineering and mathematics (STEM).
Dr. Angelica Jordan, RBES, (mathematics) and Lee Dodd, Patch Middle School (science) were among the more than 140 individuals and organizations announced by the White House Office of Science and Technology Policy (OSTP) with the National Science Foundation (NSF).
Jordan has been a teacher for the DoDEA for 14 of her 23 years in education. Currently, she is an instructional systems specialist for world languages and English as a Second Language for the Europe South District office. Prior to this professional development role, she taught military children for five years as the math specialist at RBES.
Throughout her career, Jordan has taught elementary Spanish immersion, Spanish, and mathematics. In 2011, she was honored as the DoDEA Teacher of the Year.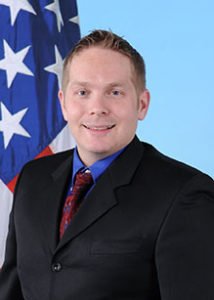 Dodd is going into his third year teaching sixth grade science at Patch MS. He has 14 years of teaching experience, 10 of them within the DoDEA. He previously taught grades six through eight at Mannheim Middle School and Robinson Barracks Elementary Middle School.
He was recognized as the 2016 Bavaria DoDEA District Teacher of the Year, and was Science Department Chair and Grade Level Chair at his current and previous schools.
"On behalf of the White House I am honored to express the nation's gratitude for the tireless dedication that these men and women bring to educating the next generation of scientists, engineers, and mathematicians," said Michael Kratsios, deputy assistant to the President for technology policy, addressing the awardees. "Each day, more and more jobs require a strong foundation in STEM education, so the work that you do as teachers and mentors helps ensure that all students can have access to limitless opportunities and the brightest of futures."
Awardees represent schools in all 50 U.S. states, DoDEA schools, and schools in the U.S. territories American Samoa, Guam, the Commonwealth of the Northern Mariana Islands and the U.S. Virgin Islands.
During a visit to the nation's capital, award recipients will each receive a presidential citation at an awards ceremony and participate in discussions on STEM and STEM education priorities led by OSTP and NSF. Recipients will also receive $10,000 from NSF, which manages the Presidential Awards for Excellence in Mathematics and Teaching (PAEMST), and Science, Mathmatics and Engineering Mentoring (PAESMEM) programs on behalf of the White House. Established in 1983, PAEMST is the highest award kindergarten through 12th grade mathematics and science (including computer science) teachers can receive from the U.S. government. The award alternates years between kindergarten through sixth grade and seventh-12th grade teachers. This year, on the award's 35th anniversary, kindergarten through sixth grade teachers will be honored. Nominees complete a rigorous application process that requires them to demonstrate their excellence in content knowledge and ability to adapt to a broad range of learners and teaching environments. A panel of distinguished mathematicians, scientists and educators at the state and national levels assess the applications before recommending nominees to OSTP. Teachers are selected based on their distinction in the classroom and dedication to improving STEM education. Click here for complete information on the program and awardee profiles.
DoDEA plans, directs, coordinates and manages pre-kindergarten through 12th grade education programs for school-age children of Department of Defense personnel who would otherwise not have access to high-quality public education. DoDEA schools are located in Europe, the Pacific, Western Asia, the Middle East, Cuba, the United States, Guam, and Puerto Rico. DoDEA also provides support and resources to Local Educational Agencies throughout the United States that serve children of military families.