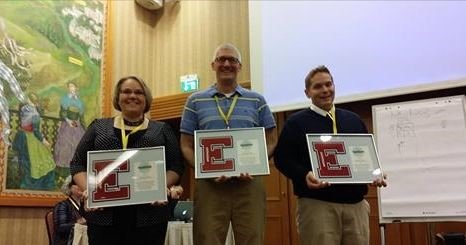 Compiled by Isabella Weibel
Editor's Note: Isabella Weibel is a Stuttgart High School career practicum intern for the USAG Stuttgart Public Affairs Office.
Stuttgart area science teacher, Michael Lee Dodd II, was recently selected as one of the Department of Defense Education Activity Europe district Teachers of the Year. Dodd was nominated for his work at Robinson Barracks Elementary and has since transitioned to Patch Middle School.
The DoDEA Teacher of the Year (TOY) Program brings recognition to great teachers, students, parents, districts, communities, DoDEA and the profession of teaching.
Dodd has 11 years of teaching experience, seven of which are within DoDEA. Before coming to Stuttgart, he taught grades 6-8 at Mannheim Middle School. He recently completed a Master of Science Degree in Education with focus in kindergarten to 8th grade science from Walden University. He received his Bachelor of Arts in Secondary Education and Environmental Studies from Principia College in Elash, Ill. Mr. Dodd hails from Quincy, Ill., where his family continues their tradition of teaching.
He creates an environment that fosters excitement about scientific inquiry and incorporates the middle school concept of educating the whole child. Through strong partnerships and collaborative instruction, Dodd helps students achieve their potential to become college and career ready.
The purpose of the DoDEA Teacher of the Year program is to recognize and promote excellence in teaching and learning.
The DoDEA TOY Program (state) is modeled after the Nation's Teacher of the Year Program (NTOY), sponsored by the Chief States Schools Officers (CSSO). This program provides an avenue for all state TOYs to be nationally recognized and compete for the NTOY. The NTOY and all state TOYs are presented at the White House. The DoDEA TOY travels to all NTOY activities and takes a semester long sabbatical to design and implement a project of choice.
The process begins at the nomination level where teachers may be nominated by peers, administrators, parents, students or community members. Each District Teacher of the Year is selected by a district panel using specified criteria to review District teacher of the Year applications. Fourteen teachers were named District Teacher of the Year for 2015-2016. Each District Teacher of the Year is invited to apply for the DoDEA Teacher of the Year.
For more information about DoDEA's Teacher of the Year Program, visit the web site: http://dodea.edu/techers/TeacherOfYear.cfm.
(Listed in alphabetical order by last name)
| | | | |
| --- | --- | --- | --- |
| Name | District | School | Position |
| Michael Lee Dodd II | Bavaria District | Robinson Barracks E/MS | Science |
| Mary Hansen | NY/VA/PR District | Crossroads ES | STEM Teacher and Instructional Coach |
| Kathy Holley | SC/Ft. Stewart/Cuba District | Bolden ES/MS | Gifted Teacher |
| Christopher Kaldahl | Mediterranean District | Rota M/HS | Science |
| Bridget Lester | GA/AL District | Ft. Rucker Primary School | Gifted |
| Ashley Melton | NC-Camp Lejeune District | Heroes ES | 5th Grade |
| Catherine Mince | Japan District | Yokota MS | Social Studies |
| Todd Mitchell | Isles District | Shape HS | Science |
| Michael Perez | Korea District | Seoul ES | Music |
| Denise Sheedy | Guam District | Andersen ES | Kindergarten |
| Allyson Snowden | Okinawa District | Kadena MS | Special Ed |
| Kacey Toole | KY District | Lincoln ES | 3rd Grade |
| Lisa Williams | NC-Fort Bragg District | Hampton Primary School | Special Ed (LIMM) |
| Gariann Wrenchey | Kaiserslautern District | Landstuhl E/MS | Language Arts and AVID |
DoDEA plans, directs, coordinates, and manages Pre-Kindergarten through 12th grade education programs for school-aged children of Department of Defense personnel who would otherwise not have access to a high-quality public education. DoDEA schools are located in Europe, the Pacific, Western Asia, the Middle East, Cuba, the United States, Guam, and Puerto Rico. DoDEA also provides support and resources to Local Educational Activities throughout the U.S. that serve children of military families.