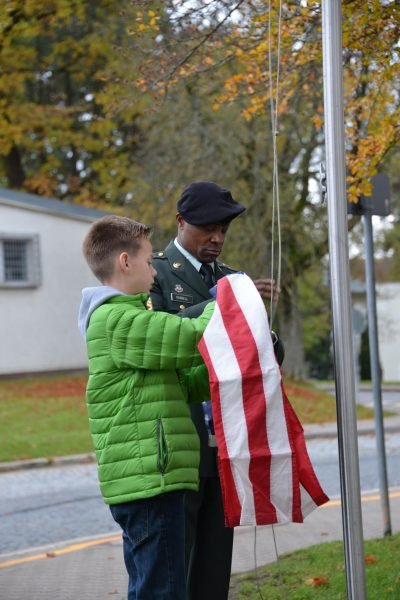 By Holly DeCarlo-White
USAG Stuttgart Public Affairs Office
Students of U.S. Army Garrison Stuttgart's schools participated in ceremonies and in-classroom activities throughout the day, Nov. 10, to honor and thank U.S. veterans for their service and sacrifices.
On Panzer Kaserne, students, parents and teachers rallied in front of the Alexander M. Patch Elementary School, named after World War II veteran Gen. Alexander McCarrell "Sandy" Patch, in the morning for a brief recognition ceremony. Veterans in attendance joined Olivia Alexander, student council president and master of ceremonies, and Col. Glenn K. Dickenson, garrison commander, to open the ceremony.  Alexander and Dickenson thanked veterans of all branches for their service, and Dickenson gave students some advice on how to support veterans and current service members.
"Each and every one of you know a service member … your father, mother or someone who is supporting the service members of this great military community," Dickenson said. "The part that you can play is in supporting them … what you do for your parents and teachers, here, are things that you are doing for your veterans."
Retired 1st Sgt. James Terrell, PES administrative officer, raised the flag with fifth grade student Skipper Burnett as the national anthem played.
Inside the school, students created a "Wall of Honor," including names and photos of veterans connected to students in the community, to be on display throughout November.
Following the ceremony, Joe Holder, commander, Veteran of Foreign Wars Post 10810, along with several other veterans, volunteered their time to visit classrooms to read "The Night Catch" (a children's story about easing deployment), or to share their military service experiences and answer student questions. Students also presented pictures and thank you letters they had written to the visiting veterans.
Also on Panzer Kaserne, Stuttgart Elementary School students recognized the service of both active and retired service members in an assembly program serenading teachers and veterans in the audience with songs, student written speeches and words of thanks. Members of the Stuttgart High School band and choir ensemble performed a medley of the five armed forces theme songs to recognize attending veterans in staff.
Robinson Barracks Elementary School students were selected to read a Happy Veterans Day message over the loudspeaker during the morning announcements.
"We are the U.S. military, we are Army, we are Air Force, we are Navy, we are Marines, we are Coast Guard, we protect and serve," said Adelyn Armstrong, RBES student.
View the photo album here.