By Joe Holder
School Liaison Officer, U.S. Army Garrison Stuttgart
On Veterans Day, Americans recognize the brave men and women who served in its armed forces. Two local veterans, Robert "Hoss" Schwartz and Kerry Dauphinee, are "bookends" of the major American involvement, 1965-1975, in Vietnam.
American involvement in Vietnam began in November, 1955, when American military advisors were sent to assist the Republic of Vietnam. President Lyndon Johnson authorized the Gulf of Tonkin Resolution following the 1964 Gulf of Tonkin incident, sending regular combat troops to South Vietnam. Troops started arriving by transport ships in 1965.
In October, 1964, 21-year-old Robert Schwartz of Poughkeepsie, New York, enlisted in the Army because all his friends were drafted. He went to basic training at Fort Dix, New Jersey. In spring, 1965, he boarded the USNS General Edwin D. Patrick to sail to Vietnam. In addition to combat troops, there were engineers to build bases, and family members transferring to Guam with their household goods. Troops had to remain below decks, and Schwartz had the choice of guard or kitchen police duty. He chose KP duty, peeling four large bags of potatoes using an electric peeler so, his daily duty lasted less than an hour.
When Schwartz arrived, he took a LSU (landing support utility craft) up the river to Saigon then transport to Phu-Bai to support the 3rd Marine Division. He spent back to back one year tours in the country working in the Signal Corps.
Schwartz spent 20 years in the Army and retired in Germany where he opened the bowling center on Panzer Kaserne, where he still works today.
Kerry Dauphinee grew up in Australia until his family moved to California. In 1974, the young 18-year-old Dauphinee enlisted in the Navy in Los Angeles, California, and went to boot camp in San Diego. His first assignment as a ship serviceman was aboard the aircraft carrier USS Hancock (CVA-19). In April, 1975, the ship took part in Operation Frequent Wind off the coast of Vietnam, near Vung Tau, to participate in the evacuation of Saigon. In a 24-hour period, April 29-30, the ship rescued 2,500 refugees escaping from communist rule.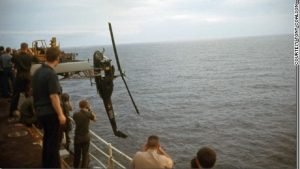 During the night of April 30, a CH-46 Marine Sea Knight helicopter burst into flames and crashed, killing Capt. William Nystul and 1st Lt. Michael Shea, embarked on the Hancock. It was very sobering for Dauphinee that these two Marines were the last casualties of Vietnam.
Dauphinee left the Navy Supply Corps after 17 years and entered into social work. Today, he is the Exceptional Family Member Program Coordinator for USAG Stuttgart.
The two Vietnam veterans were asked what advice they have for today's young service members. Schwartz told them to get their educations and perfect your professions, while. Dauphinee said that after leaving the service for them to continue to give back to their communities by volunteering or joining local community organization that give back to the people.
Schwarts and Dauphinee are both members of Veterans of Foreign Wars Post 10810, Stuttgart.
The Vietnam conflict took a heavy toll on Americans; both physically and emotionally. Death toll was 58,272, and according to the Defense POW/MIA Accounting Agency (DPAA), 1,261 are still listed as Missing In Action (MIA).
This Veterans Day, reflect on the men and women who served and sacrificed; thank the veterans and their families for defending the U.S. and the hardships they endured for continued freedom.  Every veteran has a story, just like Schwartz and Dauphinee; all you need to do is ask.