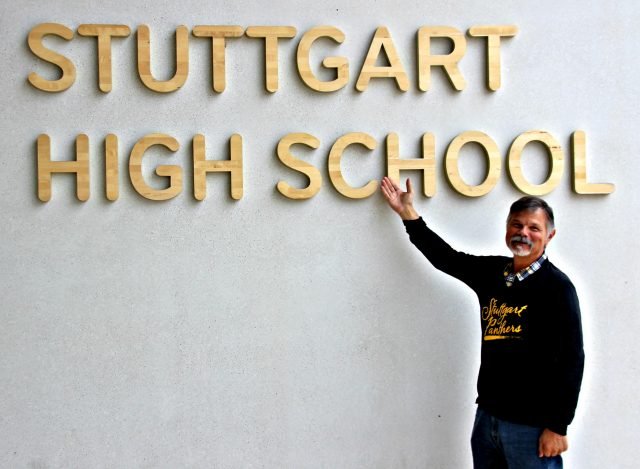 Story and photo by Hannah McLamb
Editor's note: Hannah McLamb is a SHS senior, and a 2017 yearbook and media journalist student who aspires to be an author and a musician. She will graduate from SHS in 2017.
After serving 36 years with the Department of Defense Education Activity (DoDEA), Danny R. Robinson, principal, Stuttgart High School, retired, Nov. 30.
Robinson felt that his time as a principal had come to an end and believed it was time to move on in life, much to the collective dismay of students and staff.
After serving in the Army, instructing as a teacher, a coach and acting four years as an assistant principal, the final eleven years as a principal (including being principal at Patch HS) left Robinson satisfied with his career choices.
"I pinch myself everyday. This job is great," Robinson said. "At the end of the day, I always left here feeling fulfilled."
Robinson said his job as the SHS headmaster was nothing but extremely positive, and that he's enormously proud of the family-like college atmosphere that was created at the school. He's grateful and content that the time he spent here was worthwhile.
Robinson was raised in a military family as the oldest of five. He was the only member of his family to attend college (including his parents), so he set a goal to live a satisfactory and fulfilling life, and planned his future around it. He took every opportunity along the way, including internships and odd jobs. Although things didn't always go as planned, it didn't trip him up in his determination to achieve his goal.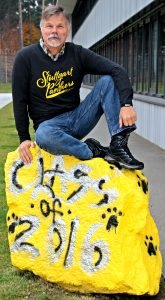 "Some decisions are good on that day," he said. "Any decisions I've made were right on that day. I don't have any regrets."
He considers his greatest achievement to be working as a principal with an open door policy, allowing students to come to him with anything. Robinson is most thankful for the opportunity to have shaped the lives of students. To those same students, particularly those who made the transition from Patch High School to the new SHS, he expressed pride in their resilience during the move. The school works because of who the students are and how they stick together as a family team, he said, adding that the success of the move is due to the efforts of the school's wonderful teachers.
The best lessons Robinson picked up over his years as a teacher and principal taught him to take every opportunity to make teachable moments, and that students will make mistakes, but it's better that those mistakes are made in high school when the can be learned from to use later in life.
"Keep a clear conscience," Robinson advised. "If you mess something up, go fix it before you leave. Don't go home and lose sleep over anything. Make things right."
Robinson believes that teachers and principals shouldn't punish students so severely that they can't recover. Instead, trust them to admit and fix their mistakes.
"Respect students, have concern for individuals and know their needs," he encouraged. "We need to recognize that grades reflect learning, not responsibility."
Students have taught him an important lesson, too.
"Treat students like young adults, and they'll excel and live up to your expectations. Students grow up and learn," he said. "Never give up on a single one of them."
Now that he is retired, Robinson plans to perfect his art skills, learn to play an instrument, read more and travel. He's also excited to work more with his son and further expand his horizons.
Robinson will be missed by the students, staff and alumni.
"Thank you, one and all, and all the very best to you, always," he said.