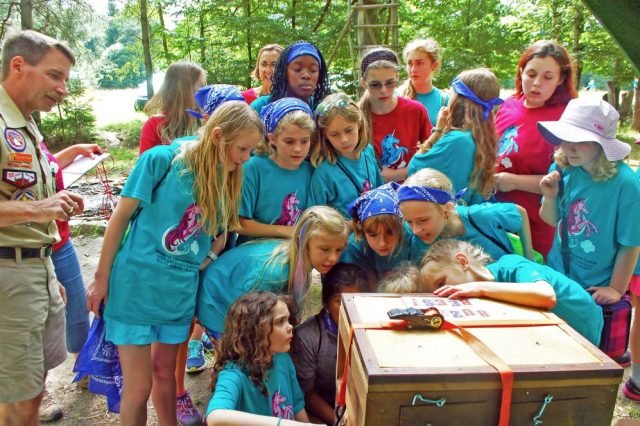 By Holly DeCarlo-White
USAG Stuttgart Public Affairs Office
With more than 400 members, the Stuttgart Girl Scouts are U.S. Army Garrison Stuttgart's largest girls-only leadership development program reaching out to girls ages 5 to 17.
This summer, a Harry Potter-themed "Magical Adventures in Scouting" camp was held Aug. 8-12 in Böblingen. More than 100 Stuttgart Girl Scouts and adult volunteers participated in the camp that was open to ages 6-14.
The camp is an example of the many programs that fall under Stuttgart Girl Scouts' STEM (science, technology, engineering, and math) initiative, which offers girl-led, girl-centered activities to help develop confidence in the above mentioned skills. According to the official website, these types of programs intend to help girls discover themselves, their values, connect with others, build healthy relationships, and take action to make the world a better place.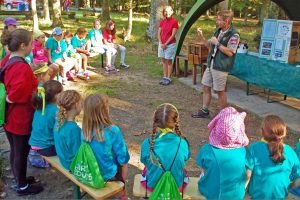 Attributing to this year's theme, the scouts competed in games of Quidditch and learned other magical tricks-of-the-trade throughout the camp: care of magical creatures, broom flying, herbology, potions, magical instruments, and defense against the "Dark Arts." These activities were intended for scouts to learn about various aspects of nature including wasps and bees, the dangers of stinging nettles, GPS reading, and even dissecting owl pellets. Scouts spent time outdoors on nature hikes, treasure hunts, and much more.
"A little bit of wind and rain, as well as an unexpected visit from a wild boar couldn't keep us from having lots of fun exploring the woods, playing and singing with friends, and learning about the responsibilities of being a Girl Scout," said Marlieke Eaton, troop leader and committee member of Stuttgart Girl Scouts Overseas.
"This camp gives girls an opportunity to take on challenges, connect with old and new friends, and have fun," she added.
Shelby Hensley, 14, participated in the camp as a counselor for the second time this year. Students can apply to be a counselor after completing the 6th grade.
"I loved it," exclaimed Hensley when asked about her time at the camp. "Being a part of the Girl Scouts is a great way to be taught how to be a leader, and I got the chance to connect more with the other younger girls."
In addition to working with girls of all ages, and learning leadership skills, counselors participate in each of the camp activities, too.
"Learning about science (herbology), was my favorite part. We got to watch different chemical reactions, and learn about plants and nature," Hensley said.
Fleur Eaton, 9, said she enjoyed the potions activity, learning to mix and measure ingredients from recipes, the most. "There were three potions we could pick from: underwater, flying and visibility. We mixed it up and even got to drink it."
"We also did 'transfiguration' in arts and crafts. We used Popsicle sticks, wool and yarn, then weaved it together," Eaton said.
The camp was organized solely by volunteers of the Stuttgart military community, who teamed up to make it a huge success and memorable event for the scouts.
For more information on Stuttgart Girl Scouts, visit www.stuttgartgirlscouts.org.
About the Girl Scouts of the USA
Members of the Stuttgart Girl Scouts belong to the national organization of the Girl Scouts of the USA, which is 2.8 million members strong—2 million girls and 800,000 adults who believe girls can change the world. It began over 100 years ago with one woman, Girl Scouts' founder Juliette Gordon "Daisy" Low, who believed in the power of every girl. She organized the first Girl Scout troop on March 12, 1912, in Savannah, Georgia, and every year since, Scouts aim to make her vision a reality, helping girls discover their strengths, passions, and talents. Today, as yesterday,  the Girl Scout mission of building girls of courage, confidence, and character who make the world a better place, continues. Girl scouts are the preeminent leadership development organization for girls. And with programs for girls from coast to coast and across the globe, Girl Scouts offers every girl a chance to do something amazing. To volunteer, reconnect, or join, visit www.girlscouts.org.