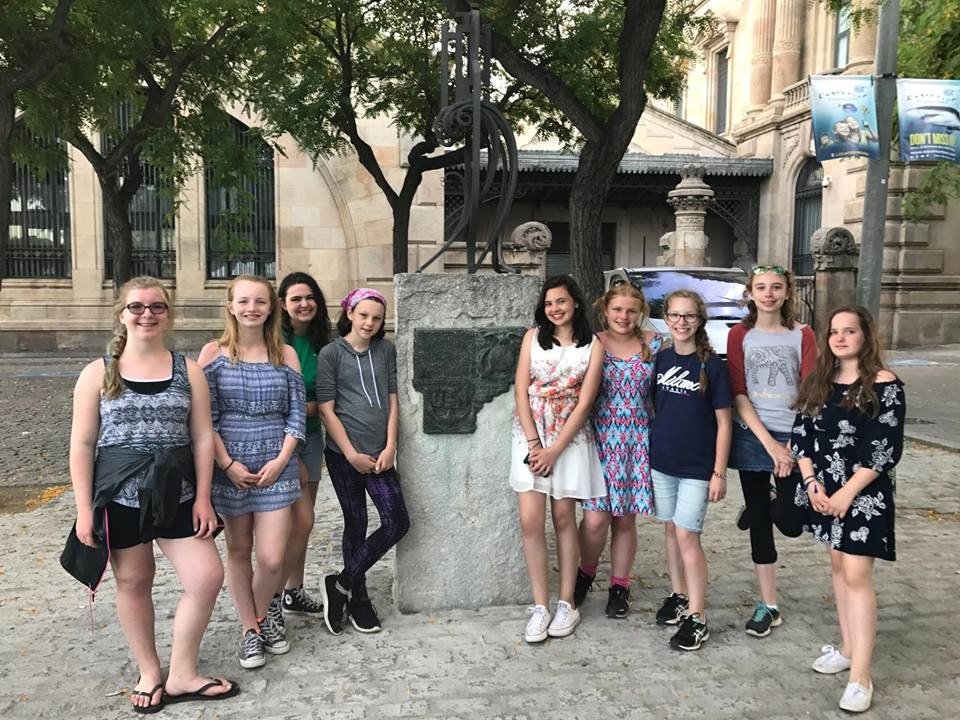 By Lt. Col. Lisa Dennis
Executive Officer, Army Health Clinic Stuttgart and
Stuttgart Girl Scouts Overseas Council Chair
Recently, three girls from Stuttgart Girl Scout Troop 514 created the "Braving Barcelona Patch," which will guide girls around the beautiful city of Barcelona.
The patch was created by Stuttgart Cadettes Delaney Garay, Fiona Miller, and Isabella Ross, and tested by Troop 514.  The Cadettes developed the Patch to guide their troop when they visited the city for their spring trip in June 2017. As the troop made trip plans, they found that there was no existing Girl Scout badge for Barcelona similar to other discovery badges for major European cities. So, the girls created one. Their troop tested Braving Barcelona on the trip, and that feedback was included in the final requirements.
"This is the perfect patch to help girls and their families explore the major highlights of a vast and artistic city," Garay said.
The patch features top Barcelona attractions, including La Sagrada Família and Park Güell, both of which were designed by one of the city's most famous citizens, Antoni Gaudí. Several more of Gaudí's creations are recommended in Braving Barcelona. Also, girls and families using the patch as their tour guide will learn how Barcelona came to the world's attention in the 1992 Summer Olympics.
"For those Girl Scouts associated with the military, Braving Barcelona spotlights the U.S. memorial to the 49 Sailors and Marines who died in an accident in the harbor," Ross said.
Another connection Girl Scouts of the USA might enjoy is that of the Christopher Columbus statue, located near the memorial. Columbus returned from his famous voyage to Barcelona to report on his discoveries to Queen Isabella and King Ferdinand, who supported the expedition.
"As with other Girl Scout discovery patches, Braving Barcelona encourages you to try local foods, such as paella and manchego cheese, and learn more about the history and symbols of Spain's second largest city," Fiona Miller said.
For enthusiastic photographers, there is a photo scavenger hunt throughout the city. Girl Scouts of all levels can complete the requirements in 1-2 days.
"To raise funds for the spring trip, Troop 514 approached the Veterans of Foreign Wars for a grant. During the meeting, the idea for Braving Barcelona was presented and members of the VFW suggested the U.S. Memorial and explained the history," Garay said.
"This truly opened our eyes to a unique connection we and others could make with Barcelona that we hadn't thought of before," Miller added.
There are many ways girls can learn leadership, confidence and try activities that challenge their mind, body and soul; joining the Girl Scouts is one of those ways. Being a part of Stuttgart Girl Scouts is a great way for girls to not only make new friends, but also work on projects that expand their minds and challenge their abilities.
Girl Scouts also provides the opportunity to partner with other organizations in the Stuttgart military community and create those long-lasting working relationships that go a long way and make you say: "I'm glad I live here."
For Girl Scouts making plans to visit this historical and fascinating city, Braving Barcelona is the perfect tour guide for you and your family.  If you're not a Girl Scout and want to find opportunities to explore, lead, and innovate in the Stuttgart community by join the Girl Scouts; parents can also sign up to be leaders.