Sophia Buschang, 6, smiles in front of a reading-themed trunk designed by SHS student group "Educators Rising" at the first NHS Trunk-or-Treat event. Photo by Bardia Khajenoori, USAG Stuttgart Public Affairs.
Story and photos by Bardia Khajenoori
USAG Stuttgart Public Affairs
Stuttgart Elementary/High School's bus loop turned into "Spookytown" for one night only as the high school's National Honor Society (NHS) held its first "Trunk or Treat" event, Oct. 31.
School staff and members of student clubs were invited to decorate their vehicles and distribute candy to young attendees. More than thirty vehicles were present, according to SHS senior Autumn Andin, who was part of the NHS team that organized the event. Donations were collected on-site for Fisher House, a non-profit organization that provides housing for patients receiving care at Landstuhl Regional Medical Center, as well as their families.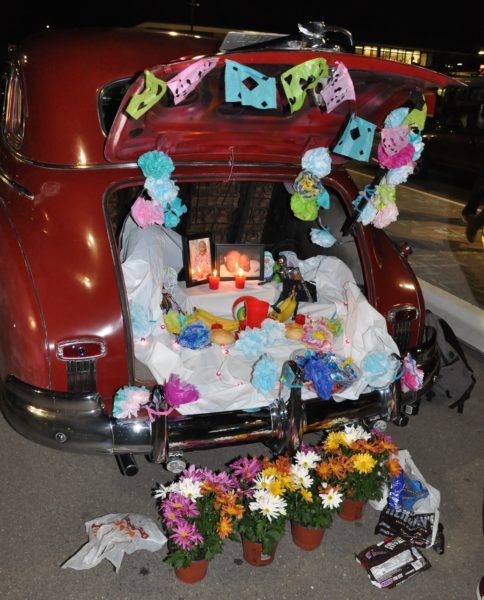 Some themes were patriotic while others were spooky, and pop culture references ranged from Peanuts to Star Wars and Scooby Doo. Two trunks were decorated in the style of the Mexican "Day of the Dead," which encourages remembering and praying for the deceased; popularized in many English-speaking countries through the movie "Coco," it is celebrated this year on November 2.
Trunks filled with candy were not the only things to enjoy. Music blasted from a DJ stand, in front of which developed an impromptu children's dance party. Some participants also went further than the traditional "trunk or treat" concept.
Stormy Lucas and her family wanted to "go all-out" by creating a fully immersive experience in the back of a large cargo van. "We decided to black it out and put lights in, and allow the kids to put their hands in eyeballs or worms," said Lucas, whose children helped with the design and decoration. "It's like our little haunted house."
Jasmine Roman, 8, came dressed as a "crazy cat lady," complete with cat-themed handbag (the inside of which was full of stuffed cats and candy), a robe covered in more stuffed cats and her hair in curls. Taking a break from the fun to present a second bag full of candy, she said she particularly enjoyed the U.S. Marine-themed display, as her father is a member of that service.
Jasmine's mother, Karla Roman, was also pleased with the event, describing the trunks as "amazing" and "super creative." Roman said the compactness of the event was a plus, making it easy to walk up and down each aisle of cars. "The kids have been getting tons and tons of candy, so it's like a one-stop-and-you're-done event, which is great for parents."
Organizers intend for the event to become an annual tradition.
[slideshow_deploy id='41361′]