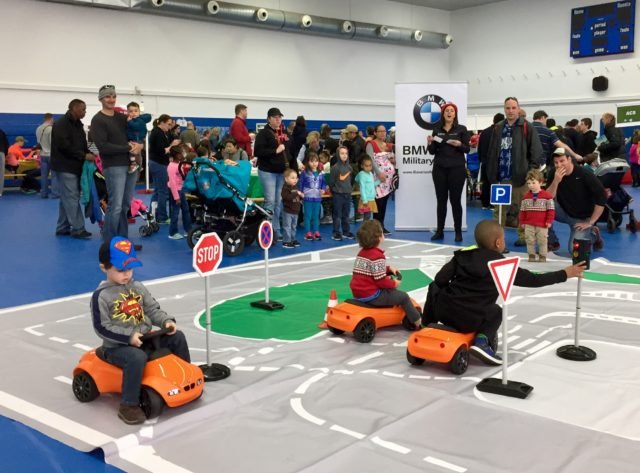 By Holly DeCarlo-White
USAG Stuttgart Public Affairs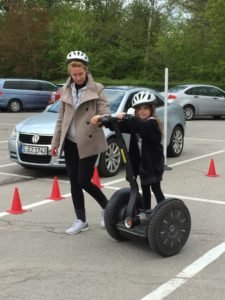 U.S. Army Garrison Stuttgart filled the calendar with events to celebrate of Month of the Military Child (MOMC) in April, culminating with a Spring Fest and Kidz Only Flea Market on Patch Barracks April 29,
Children from each Child Youth Services (CYS) facility kicked off MOMC by blowing bubbles together during a cross-installation Bubble Launch, outside their youth and school-aged centers on April 3. Throughout the month, the Patch Library and Stuttgart USO hosted several story-time and craft activities for pre-school and elementary school ages, as well as a themed Lego Club and family board game day. The Main Post Exchange provided children ages three and older with materials to craft their own Play-Doh creations.
"This month, we had many events that really helped celebrate the military child. We as military members move around and sometimes that means our children must go from place to place too. While that can be a good thing, it is also very hard," said Col. Glenn K. Dickenson, USAG Stuttgart commander. "These children are our future leaders, so it is always wonderful to celebrate with them and see their smiling faces as they partake in so many activities put on by our Child Youth Services as well as many other organizations and sponsors."
The grand finale MOMC Spring Fest and flea market began inside the Patch Fitness Center with games and craft stations, and extended outside with amusement rides and the children's items only flea market. Students from various CYS SKIES classes entertained attendees with jazz, ballet, pointe and tap dance performances. Fest activities included a castle bouncy house, Segway obstacle course, a carousel, various food and ice cream stations. The Java Café also provided families with free peach and wild berry smoothies.
"The peach (smoothie) was my favorite," said three-year-old Bodhi Rivera.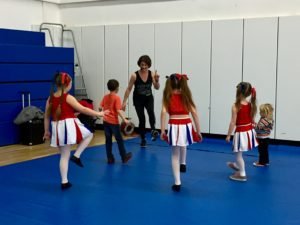 At each activity station, children collected a stamp in their event passport and encouraged them to engage with other community members and receive prizes.
"At the basketball challenge we had to shoot basketballs and I won a Frisbee," said seven-year-old Riley Edwards. His younger brother Sean Edwards enjoyed the basketball game as well and won a tiger figurine.
The Spring Fest stations also centered on safety topics. The USAG Stuttgart Fire Department was onsite with their truck and equipment to answer any questions, while children had the opportunity to sit inside the fire truck and try on a real firefighter helmet.
Parents could pick up bicycle registration, child ID kits and Off-Post youth protection policy information from the USAG Stuttgart Directorate of Emergency Services and German Polizei.
"In a child ID kit you have the ability to collect your child's fingerprints and make a laminated photo ID with the child's picture for them to carry. There is also a DNA collection kit.  Parents can swab their child's mouth to create a record of their DNA, that way if anything happens to their child, parents have their DNA on hand," said DES Provost Marshall Maj. Jay Guerrero.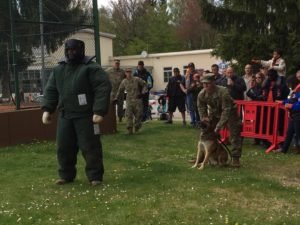 Other participating organizations included the Criminal Investigation Division, Red Cross, Stuttgart Veterinary Treatment Facility, Army Community Service (ACS), the Prince Hall Masonic Lodge Jurisdiction of Maryland Stuttgart Chapter, and the USO Stuttgart.
"The Spring Fest is an opportunity for our community to thank our military 'Brats' for the sacrifices they make as part of a military family.  These amazingly resilient and bright kids are asked to move every 3-5 years, if not more.  They live knowing that at a moment's notice one or both of their parents may be called upon to be put in harm's way," said Corrie Schwab, CYS Services, Parent and Outreach Services director.  "However stressful this experience may seem, our military kids continue to surprise us with their resiliency, respect for diversity and "can-do" attitude.  In the month of April we take a moment to truly reflect on this and say "Thank" you for all that you do."
View the Stuttgart Family & MWR photo album here and more photos here.