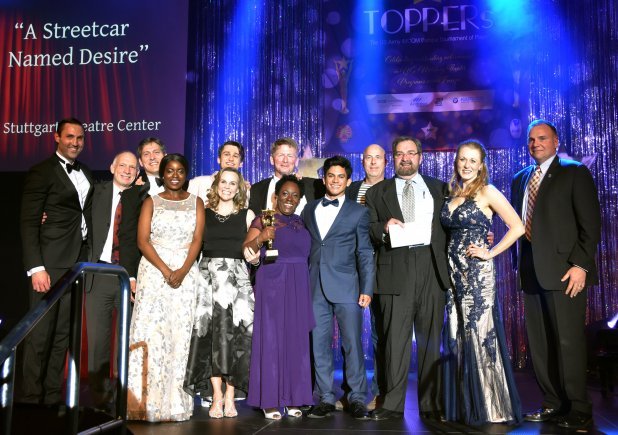 Actors, actresses, crew, friends, Family and special guests all came together for a gala event celebrating the best in Army Europe community theater during the 2017 season at an event April 29. This year's Toppers Awards, held for the first time at U.S. Army Garrison Wiesbaden in the event's 22-year history, showcased the best and brightest from theater programs across Europe.
"Everyone who has contributed to one of this year's entries is already a highly valued member of a winning team," said Michael D. Formica, Installation Management Command Europe director, as he welcomed the guests and nominees to the event. "Your talent, dedication and hard work enrich us all. On behalf of the total Army Europe, Air Force, and international families, I thank you for providing top-quality entertainment events in the tournament and throughout the year. Congratulations to all of you for a job well done."
Dane Winters, IMCOM Europe entertainment director and one of the evening's masters of ceremonies, said this year's Toppers competition was one of the best he has seen, and hardest for the judges to pick winners.
"The shows this year were really incredible, I mean professional-quality stuff," he said. "Everyone was so energized and so excited."
The 49 Toppers awards and numerous special awards were presented by leaders from military communities throughout Europe, with some star-studded help.
"I'm thrilled to be back this year to help celebrate all your hours of hard work and outstanding achievements," said Lin-Manuel Miranda, Tony-award winning actor, playwright and composer, and creator of the Broadway hits "In the Heights" and "Hamilton," in a pre-recorded video message announcing the winner of Best Military Performance in a Musical. "Thank you for your sacrifice and your service."
Miranda was one of an array of guest stars, including William Shatner, LeVar Burton, Daniel Radcliffe, Art LaFluer, Henry Winkler, Chris Pine, Ben Stiller, Charlie Carver, Kristin Chenoweth, Joe Manteiga, Harvey Fierstein, and David Hyde Pierce, who all volunteered their time to help announce awards this year.
The evening's top winners were USAG Wiesbaden's Amelia Earhart Playhouse with 13 Toppers, Kaiserslautern's KMC Onstage with 10 Toppers and USAG Stuttgart's Stuttgart Theater Center with nine Toppers.
Wiesbaden and Stuttgart split the big wins for the night, with Wiesbaden's production of "Annie" taking home the Topper for Best Musical, and Stuttgart's rendition of "A Streetcar Named Desire" winning Best Play for the year.
Stuttgart winners are:
BEST SOUND DESIGN FOR A PLAY
Alan Buxkemper. "A Streetcar Named Desire." The Stuttgart Theatre Center
BEST COSTUME DESIGN FOR A PLAY
Richard Roberts and Leandra Sutton. "A Streetcar Named Desire." The Stuttgart Theatre Center
BEST TECHNICAL DIRECTOR FOR A PLAY
"A Streetcar Named Desire." The Stuttgart Theatre Center
BEST DIRECTOR OF A PLAY
Richard Roberts. "A Streetcar Named Desire." The Stuttgart Theatre Center
BEST SUPPORTING ACTOR IN A PLAY
Edward Gaietto (Mitch). "A Streetcar Named Desire." The Stuttgart Theatre Center
BEST ACTRESS IN A PLAY
Tracy Coffey (Blanche). "A Streetcar Named Desire." The Stuttgart Theatre Center
BEST DEBUT IN A PLAY
Jacquelyn Drivas (Annelle). "Steel Magnolias." The Stuttgart Theatre Center
BEST PLAY
"A Streetcar Named Desire." The Stuttgart Theatre Center
SPECIAL PERFORMANCE ACHIEVEMENT AWARD (TOPPERs Judges' Choice)
1. "An Evening with Edgar Allan Poe," for Creative Use of the Performance Space. The Alliance Players, JFC Brunssum, Netherlands
2. Dörte Jensen, for "Outstanding Fight Choreography." A Streetcar Named Desire. The Stuttgart Theatre Center
3. Sgt. Edward Martin for Original Music for "The Lusty & Comical History of Tom Jones." The SHAPE Players Performing Arts Center, Belgium
4. "Arsenic & Old Lace" for Creative Casting of Command Staff. Amelia Earhart Playhouse, Wiesbaden
THE MARGARET (SKIPPY) LYNN ENTERTAINMENT AWARDS FOR EXCEPTIONAL VOLUNTEER COMMITMENT
Jeanne Ragonese. The Stuttgart Theater Center
AMERICAN ASSOCIATION OF COMMUNITY THEATRE (AACT) AWARDS
AACT Spotlight Award. Shannon Egbert. The SHAPE Players Performing Arts Center, Belgium
AACT Special Recognition Award. Nate Records. USAG Rheinland Pfalz/Kaiserslautern
AACT Distinguished Merit Award. Alan Buxkemper. The Stuttgart Theater Center
AACT Special Recognition Award. Installation Management Command Europe