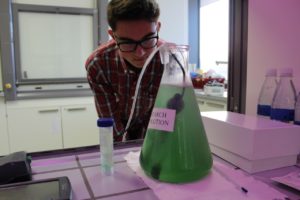 By Sam Funk
Senior, Stuttgart High School
Special to The Citizen
Three students from Stuttgart High School attended Junior Science and Humanities Symposium in Riedstadt, March 6-8.
Since the beginning of the year, several students were hard at work preparing different projects for a chance to attend symposium. Every student's project made its way to the event, and Eve Glenn, Jimmy Lynch and Rachael Dickenson attended the 2017 event to give oral presentations about their projects.
The topics were in three entirely different science departments: Glenn's topic was in kinesiology,  examining the effects of a tape she created and the effects on the stride and gait in Irish dancing; Lynch's project was creating a solar panel bioreactor for Spirulina algae and testing the rate of oxygen production based on several different factors; and Dickenson's was working with genetic variations in the invasive species of Goldenrods called Solidago Canadensis and mapping out potential areas of variation to understand how different environments affect the plant both on a visible as well as genetic level.
"It involves invasive species, something I am curious about," Dickenson said about her presentation. "Solidago canadensis is invasive in many areas of the world, and I am interested in seeing how it develops after being introduced to a new area."
The presentation were mostly based on something that interested the students and made them curious. For Lynch, it was his passion for the possibilities of humans in space.
"I have always been intrigued with human space exploration, and even though this research deals more with biological processes, the Martian habitat has always fascinated me," Lynch said. "Pursuing this project gave me not only lab experience, but also an opportunity to explore my interests outside the classroom."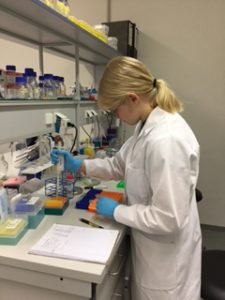 Glenn, whose Irish dancing project deviated from the conventional ideas of science, found the motivation for her project in personal experience and curiosity about the reasons for things that she had encountered.
"A few years ago I broke my arm during an Irish dance competition. This had me wondering whether it was the compounds on the bottom of my dancing shoe soles or an internal/external factor that caused the injury," she said.
Lynch and Dickenson worked under several great scientific minds to understand certain aspects of their projects and better develop their research. The scientists gave them advice and some materials to succeed.
The three students intend to work in the S.T.E.M. field in the future. Dickenson intends to become an environmental engineer and help with research around the world; Lynch will be working in a more mathematical focused field, but intends to continue working on his project in college; and Glenn is interested in becoming a surgeon, focusing on cardiology.
(Editor's note: After graduation, SHS senior Sam Funk plans on studying in journalism at Oregon University in Eugene or Emerson College in Boston.)
 AVID applications available now
Applications are available for the Stuttgart High School Advancement Via Individual Determination program. AVID students get all they need to become high-achieving students, including an elective class; special note-taking and organization techniques; group tutoring; goal-setting; writing instruction; college test prep; guest speakers; research skills; college and scholarship information; portfolio; and motivational activities. No other program or class at SHS offers all of this! Get an application at the front office or call the AVID coordinator at DSN: 431-4000/civ. 07031-154000. Applications should be returned by March 31.