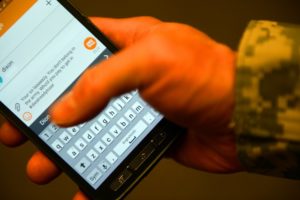 By John Reese
USAG Stuttgart Public Affairs Office
Before you post that next comment on social media, check to ensure you're not violating Army regulations regarding professional conduct.
Online conduct is using "the use of electronic communication in an official or personal capacity that is consistent with Army values and standards of conduct."
In a message to all Army personnel dated Feb. 23, Soldiers and Army civilians were reminded that the Army is a values-based organization. Soldiers are to conduct themselves according to Army Values; whether in person or online, everyone is to be treated with dignity and respect.
The recent guidance is a continuation of similar guidance put out July 27, 2015: "Soldiers or civilian employees who participate in or condone misconduct, whether offline or online, may be subject to criminal, disciplinary, and/or administrative action. Commanders and leaders will reinforce a climate where current and future members of the Army team understand that online misconduct t is inconsistent with Army values and where online-related incidents are prevented, reported, and addressed at the lowest possible level."
The line for misconduct is crossed when someone uses the web to harass, bully, haze, stalk, discriminate, retaliate or anything else that undermines dignity and respect. This can be done through texts, emails, social media, blogs, etc. If a Soldier sends electronic communications like those listed, "Treatment of Persons" (Army Regulation 600-20, section 4-19), it could be considered the mistreatment of others; mistreatment isn't limited to in-person behavior.
In June 2015, the director of the Army's Equal Opportunity policy office said that the mistreatment of persons, both in person and online, is destructive to the unit cohesion that is required for the Army to conduct its mission. Per the recent guidance, the Army isn't prohibiting the use of social media so long as it is responsible.
Everyone is expected to do what is right by treating all persons as they should be treated – with dignity and respect. Hazing, bullying, and other behaviors that undermine dignity and respect are fundamentally in opposition to Army values and are prohibited.
(Editor's note: Information for this story came from Army guidance and contributions from an Army.mil article by C. Todd Lopez.)
Online conduct guidance published by the Army: