By Holly DeCarlo-White
USAG Stuttgart Public Affairs
The Stuttgart Community Spouses Club (SCSC) awarded $79,000 to 34 members of the Stuttgart High School class of 2018, June 1, in the school auditorium on Panzer Kaserne.
"Knowledge is its own reward," said David Carlisle, SHS principal during opening remarks of the assembly. The event recognized students who have earned scholarships from various private organizations, as well as military appointments, and athletic and academic awards.
Funding for SCSC scholarships and welfare grants are made possible by proceeds from Patch Barracks Thrift Shop and other member events, to include the Spring Bazaar. More than $350,000 annually goes back into the community by way of scholarships, military balls, youth sports and other organizational grants in Stuttgart.
This year, the SCSC scholarship committee will give back a total of $136,000 to high school seniors, continuing college students and spouses affiliated with the Stuttgart military community. The judging criteria for scholarships for seniors includes: GPA, ACT or SAT score; school involvement; leadership; community service/volunteer time; employment time, and an essay.
"Our scholarships this year range from $500 to $10,000 and were granted to 62 applicants. Three applicants were ineligible to receive funds due to military academy appointments and a Gap year plan. These students were recognized as Honorable Scholars," said Traci Haggard, SCSC scholarship chairperson.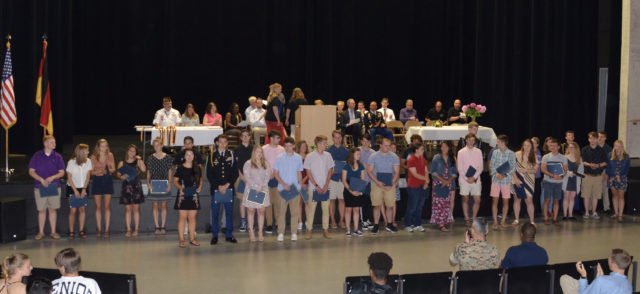 SHS Scholarship Awardees
Aidan Dehan
Amanda Fuglaar
Anders Bergeson
Bradley Roxbury
Bradley Russell
Brianna Davis
Callie McGurk
Callum Funk
Cameron Pfister
Camille Pereira
Caylee Creer
Clare Walls
Damon Tingey
Derek Norris
Dylan Rodriguez
Emberleigh Rivera
Erin Rhodehamel
Frank Whitworth
Gustavus De Andrade
Hannah Cahill
Jakob Kalwaites
Kendall Smith
Kevin Debrine
Liam Fortier
Luke Matvey
Madeline Konig
Marquis Jackson
Mitchell Stoner
Nina Gante
Ryan Martin
Sara Johnson
Savannah Hallgarth
Shaelyn Pond
Sydney Smith
Zoe Rolston
Honorable Scholars
Caitlin Shekelton
Justin Yates (Air Force Academy)
Kurt Huebschman (Coast Guard Academy)
Spouse Awardees
Alexis Gardner
Lisa Dolby
Rachel Andrews
Sharon McMillon
Continuing Education Awardees
Catherine Massie
Christopher Cheadle
Connor Fortier
Daniel Wetlesen
Emme Corson
Faith Kruger
Hayley Kunde
Jessica Thompson
Katherine Viana
Katie Morrow
Kelsey Morrow
Kristen Funk
Lexington McLellan
Lorin Byrd
Mary Debrine
Nicole Hartwell
Rachel Bragg
Sara Tingey
Sophia Pauken
Stefan Pfister
Tana Putnam
Tenley Getschman
Wyatt Puttnam
View the photo album. For information on scholarships, grants or SCSC membership, visit https://stuttgartspousesclub.org/.