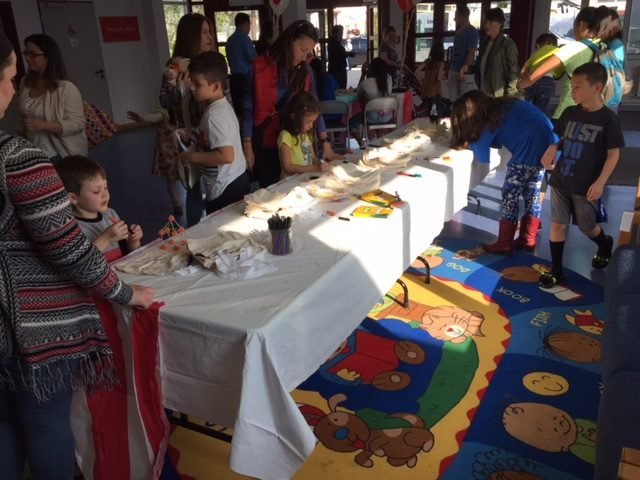 By John Reese
USAG Stuttgart Public Affairs
The kids stayed after school by choice, Sept. 28, and brought their parents to enjoy the Patch Elementary School Fall Carnival.
"It's our annual event for families and the community," said Kristin Cobb, president, PTA.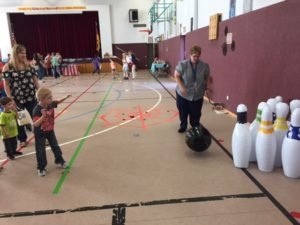 As families entered the school to register, children were immediately drawn to the first art activity as their parents signed in and paid a small entrance fee to cover the costs of the games and food.
"They're decorating tote bags," Cobb explained. "The kids decorate the bags and then go around the carnival using them to collect candy and game prizes."
The turnout was good at the beginning and continued to grow as the carnival went on into the early evening. More families and community members continued to join the fun.
Kindergarten teacher Laura Lynn Elgin ran the spiderweb walk and indoor bowling using inflatable beach balls in lieu of real bowling balls and inflatable pins bigger than the little bowlers.
Inside the gymnasium, a number of games and a very popular cupcake walk, a child-sized take on the old-fashioned cakewalk.
Outside, more games and a variety of colorful, bouncy inflatables caught everyone's attention. There was food, too, provided by one AAFES concessionaire, the Stuttgart High School culinary teacher, Boy Scout Troop 224 from Patch Kaserne, and the ever-present USO cotton candy machine spinning out sugary delights distributed with parental approval, plus a table laden with pre-popped, pre-bagged popcorn.
Ryan Scholl, USO volunteer and Sarah Kemp, center manager, USO, prepared cones of cotton candy for kids. The fluffy treats disappeared as fast as the dessert duo could spin them.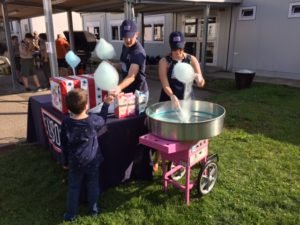 "We love supporting our community. That's the whole reason the USO exists, to support our active duty service members and their families by connecting them to the things they love – like cotton candy," Kemp said.
Life Scout and 8th grader Connor van Skike, 14, lead his fellow Boy Scouts in serving up hot foods.
"We're here to celebrate the fall festival," van Skike said, adding the Scouts were offering inexpensive hamburgers, hot dogs, chips, drinks and more. "We're just here to help, to give back to the community."
Some adults brought their grandchildren enjoy the games with the scores of school-age children.
"I don't have a student here. My grandson Nathan Parris is here. He's three years — he doesn't have a school. He's just here to enjoy," said grandmother Daphne Smith, sunning herself at a picnic table while she chaperoned her grandson. "I'm enjoying watching the kids playing. It's just nice to have a fun day for the kids."
PES hopes to have more similar events throughout the school year.
"We're doing a STEM (Science, Technology, Engineering and Mat) initiative this year. Our first event will be toward the end of November, and we're hoping to have more STEM nights with the same sort of set-up: games activities to get more families involved in school," Cobb said. "We're also hoping to have a family field day in the springtime in May. It will be our spring answer to the fall carnival."