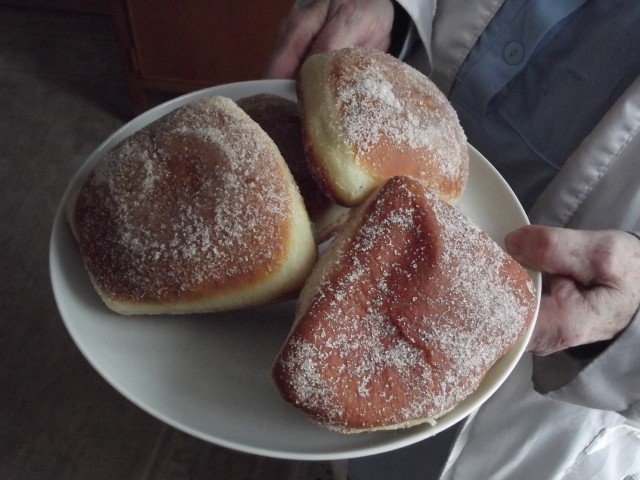 By Teri Weiss
Special to The Citizen
Mad and merry "Fasching" activities peak during February. During this time and before Ash Wednesday, do not miss out on tasting this authentic local treat, "Fasnetsküchle." This deep-fried yeast pastry, similar to an American doughnut is traditionally served only during the Swabian- Alemannic "Fasnet" in Baden-Württemberg.
The custom of making Fasnetsküchle dates back to 1500. The Christian church calendar stated that cooking, roasting, baking and consuming rich foods like meat, sausages and dairy products had to cease during Lent (40 days of strict fasting before Easter). That meant everything in one's pantry and storage had to be used up lest it spoil.
In olden times, everything was fried in lard, including pastries like "Küchle," or smaller cakes. To this day, the beloved pastry has remained part and parcel of the Swabian Fasnet.
Fasnetsküchle are similar to the so-called "Berliner," or jelly doughnuts, or "Krapfen," which are available year round. But the Swabian version is distinctly different: it must be flat and square or rectangular, never round nor as tall as a Berliner, and it's not supposed to be filled with jam – it should be plain inside and out. True Swabians insist that Fasnetsküchle may not even be sprinkled with cinnamon or powdered sugar. The fact is though, that most bakers have succumbed to the sweet-tooth tastes and demands of their customers.
With or without a jam filling or a sugar crust, be sure to sample a Fasnetsküchle of your choice before Ash Wednesday, or try making your own.
The do-it-yourself approach will probably require a bit more time and patience since the dough has to rest and rise a couple of times, but the delicious result will be well worth the effort.
Sources: www.narrenlexikon.de/fasching-bisfunkensonntag#fasnetskuechle.
Teri's family recipe:
Yield: About 24 Küchle (small cakes) Prep Time: 2 hours
Baking Time: 20 minutes Total Time: 2 hours 30 minutes
Ingredients:
2 cups whole milk, warmed to 110 degrees Fahrenheit (43 degrees Celsius)
4½ teaspoons active dry yeast (two packages)
¾ cup and 1 pinch granulated sugar, divided
5 to 6 cups all-purpose flour, divided
2 eggs
1 teaspoon vanilla extract
1¼ teaspoons salt
4 tablespoons unsalted butter, melted
Canola oil or "Palmin" for deep- frying
Directions:
1. Pour warm milk into bowl. Stir in yeast and a pinch of granulated sugar. Let stand for 5 to 10 minutes, or until it has become bubbly.
2. Add 2 cups of flour to the mixture and stir with a wooden spoon until a smooth batter forms. Cover with plastic wrap and set in a warm spot for 30 minutes. By now the mixture should have risen and become bubbly.
3. In a medium bowl, whisk the eggs until pale yellow and frothy for about three minutes. Add sugar, vanilla extract and salt, and whisk until combined and smooth.
4. Add egg mixture to the dough and hand-knead until mostly combined. Add the melted butter and mix. Gradually add three more cups of flour to the mixture and continue to knead until very soft dough comes together (it will be rather slack and a bit sticky.) If necessary, add up to another cup of flour, a spoonful at a time, until the dough firms.
5. Transfer the dough to a lightly greased bowl, cover with plastic wrap, or a kitchen cloth, and let it set in a warm spot until dough has doubled in size (20 to 30 minutes).
6. Remove the dough from the bowl and turn out onto a floured work surface. With your fingers, or rolling pin, push down the dough into an even layer. Sprinkle flour on the dough and roll it out to about ½-inch thickness. If the dough doesn't hold its shape and springs back, cover with a damp towel and let it rest for a few more minutes and try again.
7. Cut out 3 x 3 inch squares or 3 x 4 rectangles of dough. Transfer the dough pieces to parchment-lined baking sheets. Gather scraps of dough and again roll out and cut until you have used up all of the dough. Cover the baking sheets loosely with a dish-towel plastic wrap and place in a warm, draft-free spot until they are almost doubled in size, about 30 minutes.
8. Meanwhile, heat at least 1½ to 2 inches or more (so that the Küchle can "swim") – of deep frying shortening or oil in a heavy-bottomed pot or deep skillet (a 12-inch cast iron skillet for example) over medium heat to 350 degrees Fahrenheit (176 degrees Celsius). Carefully lower about three or four Küchle into the oil one at a time (be sure not to over-crowd the pan) and fry until the bottom is golden brown. Carefully turn them over and continue to fry until the other side is golden brown.
Use a strainer or slotted spoon to remove them to a paper towel-lined baking sheet to drain. Allow the oil to come back to temperature, and then repeat until all of the Küchle have been fried.
Let the Küchle cool down to lukewarm and sprinkle them with cinnamon or sugar. You can also enjoy them with "Apfelmus," or apple sauce.