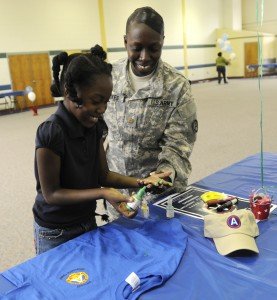 Patch Middle School is in need of support for the first Patch Middle School Mentoring Program. Mentors and students meet on a regular basis once per week from 11:40 a.m. to 12:25 p.m. to eat lunch and participate in planned activities led by a classroom teacher and program sponsor. Activities include both physical and academic challenges/games that involve the mentors and students working together, solving problems, and getting to know each other. All activities and materials are provided.   If you are interested in learning more about the program, please contact the School Liaison Office at DSN: 430-7465/civ. 0711-680-7465.
Come join the Patch Wolf Pack
Mentoring programs help students build positive caring relationships and improve their attitudes toward school and others. Mentoring is a fun and rewarding way to give back to your community. Mentors are asked to attend an orientation and to participate in the program each week.
Patch Middle School, Room 417, Patch Barracks, Bldg. 2388, DSN 430-7191/civ. 0711-680-7191.
Schedule of Events
All activities will take place at Patch Middle School in room 417 from 11:40 a.m.-12:25 p.m.
Tuesday, Jan. 12 – Cup Stack
Tuesday, Jan. 19 – Crossing the Pond
Monday, Jan. 25 – Create a Jigsaw Puzzle
Monday, Feb. 1 – Gutter Ball