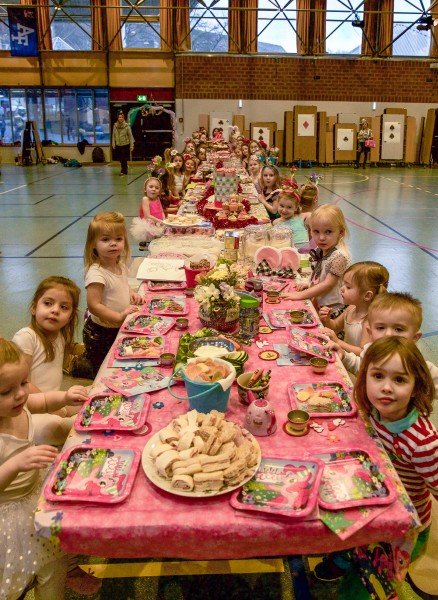 By Isabella Weibel and the USAG Stuttgart Public Affairs Office
Editor's Note: Isabella Weibel is a Stuttgart High School career practicum intern for the USAG Stuttgart Public Affairs Office.
Dance Production Theater held a "Mad Hatter Tea Party" rehearsal event at the Patch Forum, Feb. 24 in preparation for the main production of Alice in Wonderland, June 1.  Over 60 students, ages 2-17 were dressed in their character costumes and sat at a long decorated table, sharing tea and finger food prepared by parents and volunteers to create a whimsical scene for the tea party. while participating in Alice in Wonderland inspired games. The tea party created a magical environment for students to talk and play games before their practice performance.
This is the third year for the Dance Production Studio program, part of SKIES Unlimited, which stands for "School of Knowledge, Inspiration, Exploration and Skills."
After two fantastic years of choreographing and performing Peter Pan and the Pirates, and The Wicked Wizard of OZ, and in celebration of Lewis Carroll's 150th Anniversary, Alice in Wonderland is coming to the Stuttgart military community, June 1.
DPS prides itself on providing dancers with an enriching learning environment offering them the opportunity to learn various choreographies, as well as a chance to experience the creative process that goes into staging a production. The class format places emphasis on learning and enjoying rather than anxiety-producing tryouts and exhaustive rehearsals.
Students participate throughout the development of the production and have the possibility to provide creative input making it a one-of-a-kind experience.
"We love to dance and share the creative experience of putting a unique spin on children's classics that have entertained our audiences over the last couple of years," said Leslie Stubbs, DPT Instructor.
Classes are held at the Patch Forum on Wednesdays and are open to children from beginner to more advanced, ages 2-17, and to children possessing a variety of dance training and experience. A unique part of the program is also the rolling enrollment. Being part of a military community, parents can enroll their children all season through March, before the June production rehearsals begin. Students must be enrolled in Child, Youth and School Services. Register with Parent Central Services Bldg. 2347 on Patch Barracks, or contact DSN: 430-7480/civ. 0711-680-7480.
Registration link: https://webtrac.mwr.army.mil/webtrac/Stuttgartcyms.html.