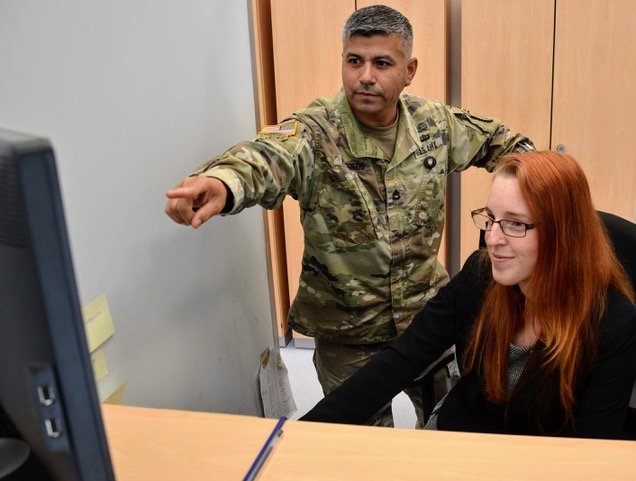 Story and photos by Rick Scavetta
USAG Stuttgart Public Affairs
This summer, when Pfc. Maxwell Mattingly bought a 1989 Land Rover in Grafenwöhr, registering it with USAG Stuttgart was a priority.
Mattingly, 20, of Fort Worth, Texas, received only a 30-day registration at U.S. Army Garrison Bavaria for the British-built all-wheel drive vehicle. A dog handler with the 100th Military Working Dog Detachment, Mattingly seldom has time for errands.
"I'm actually fairly busy all the time. We basically work all day from sun up to sun down," Mattingly said recently outside vehicle registration on Panzer Kaserne, while removing his old plates. "Today, I just happened to have some time off."
Heading inside, Mattingly hoped for the best. Automatic doors opened to a well-lit area, with a couple rows of empty chairs. Inside, Sean Bentz, a vehicle registration clerk, greeted Mattingly with a smile, a clipboard and a few questions.
Before long, he was on his way.
"With the time I have, it's pretty necessary that I have a smooth process, so I don't have to come back another day and maybe impede on some of the mission requirements I already have," Mattingly said.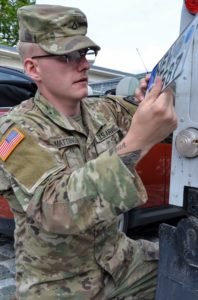 That's a lot different than a year ago.
In August 2018, Stars & Stripes reported on troops arriving before dawn for walk-in appointments, only to find 20 people ahead of them – some who had camped overnight for a place in line.
The cause – swells of newcomers taking appointments coupled with people returning to re-register during the peak Permanent Change of Station, or PCS, season, garrison officials said.
Those days were as stressful for staff as they were for customers, said Margarete Mueller, who's worked at vehicle registration for the past four years.
Garrison staff identified needed improvements and set a plan in motion to make things better. Office renovations, incorporating inspections nearby and upgrading computer, internet and credit card machines were priorities. Military members now augment the staff and customers can use a mobile phone app to set appointments.
That's made a big difference, Mueller said.
"It's way better, brighter and bigger and it's not as noisy as it was before," Mueller said.
Marines and Soldiers work alongside U.S. and German civilians. They have fun and support each other, even during a rush.
The office has roughly twice as many staff, to include active duty and Reserve troops, compared to last autumn, said Bardia Khajenoori, an analyst with garrison's office of plans, analysis, and integration, who's been following the progress. From March to July, staff didn't turn away any walk-in customers. Only two walk-ins were turned away in the two months prior, he said.
"This is despite the fact that we are tracking higher transaction totals every month this year compared to the year before," Khajenoori said, citing data up to July.
About 2,000 drivers required registration renewals this summer. The garrison encouraged community members to complete re-registration up to 75 days early, to avoid PCS season.
"The earlier-than-usual spike in transaction volume this year – May instead of July – coupled with a decline in daily transaction totals since May, suggests that efforts to encourage early re-registration were successful, "Khajenoori said.
Darlene Shattuck had heard tales of long delays an inconveniences during her three years in Stuttgart. A few months ago, she started working a vehicle registration.
"It runs a lot smoother than I was expecting," Shattuck said, recalling social media posts from upset customers.
Now, Shattuck typically sees smiles. The atmosphere is completely different, she said, with little to no wait times.
"Everyone seems to be really happy," Shattuck said. "Typically, we can see people as soon as they walk in the door. It's a much easier stop. Come in and get out. Easy."
Still, a few things still cause hiccups. Customers forget to call their insurance company with registration changes. Defense contractors arrive without their Status of Forces Agreement card. Both can halt the registration process.
"Every time you switch your plates, you need to call your insurance 24 hours ahead of time to make sure it gets updated in our system," Shattuck said. "If you're a contractor, you need to bring a SOFA card and it needs to be valid."