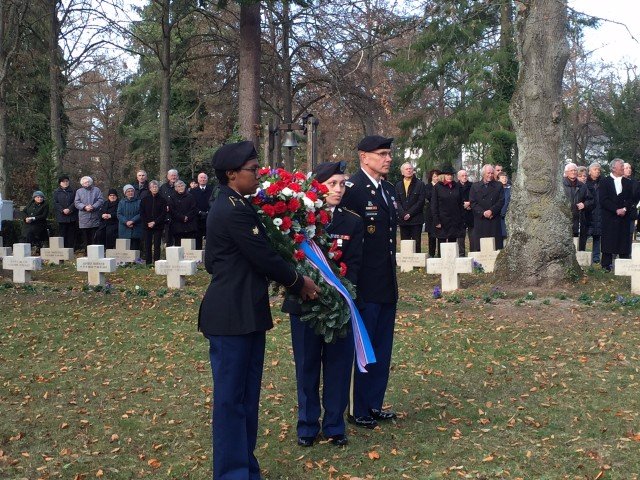 By Carola Meusel
USAG Stuttgart Public Affairs Office
On Nov. 14 and 15, U.S. Army Garrison Stuttgart leadership participated in National Day of Mourning wreath laying ceremonies in Stuttgart, Kornwestheim and Böblingen.
In Germany, "Volkstrauertag," or National Day of Mourning, is typically held two Sundays before the first day of Advent. The day, also known as "Stiller Tag," or day of silence, commemorates all those who died in armed conflicts or as the victims of violent persecution worldwide.
In 1919, the German War Graves Commission (Volksbund Deutsche Kriegsgräberfürsorge) proposed a Volkstrauertag for all German Soldiers who died in World War I. It was first officially observed in 1926.
Today, the day is observed to remember and honor Soldiers who died in World War I and World War II and in all armed conflicts.
High-ranking host nation officials, including lord mayors of Stuttgart, Kornwestheim, and Böblingen, the President of the District Government Stuttgart as well as service members of the German Bundeswehr attended the ceremonies.