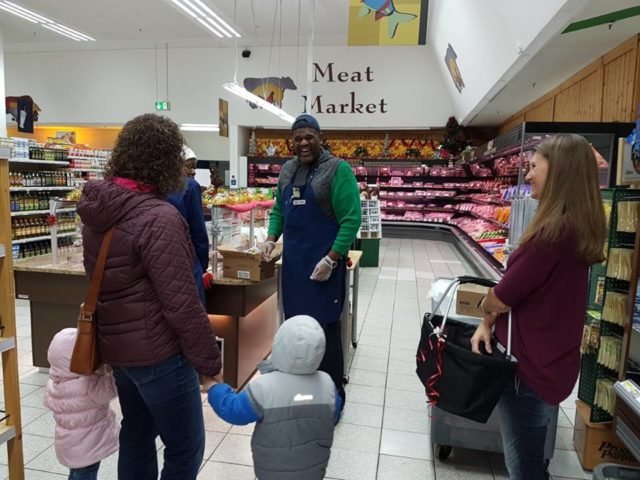 Courtesy of USO Stuttgart
Magic was in the air in December at the USO Stuttgart.  Merry Magic to be precise.
Leading up to the holidays, USO Stuttgart solicited nominations from the community during its Merry Magic program.  These nominations highlighted outstanding individuals who had gone above and beyond during the year to make a difference in the lives of those around them.  These individuals gave of themselves with no expectation of thanks, but they deserved that and so much more.
Friends and co-workers in Stuttgart nominated nine community members, and from there the fun began. With the help of the nominators, surprise visits were coordinated and special gift packages were designed for each individual nominee. Throughout the week leading up to Christmas, USO volunteer "elves" showed up at garrison workplaces, coffee shops, schools and wherever else a nominee could be found to thank and recognize them.
One of those nominees was Kenneth Bellamy, Patch Barracks Commissary, who received a Merry Magic surprise from the elves Dec. 18. That nomination, submitted by a community member, read "Kenneth is a wonderful worker and always a has a smile on his face. He greets every customer with a great big smile, then he asks how you are, and if you need help finding something. He knows the store well and can help you find anything you are looking for quickly. This is especially nice when shopping with two young children. There are some workers who are not as friendly and I really appreciate Kenneth. His positive attitude makes a difference when living abroad away from family and friends. I recently saw him at the PX and told him that he is THE BEST. He said he is just treating others how he would want to be treated. He has a great big heart and deserves something special. Thank you for recognizing him and let him know that his impact is great!"
Along with certificates of recognition, the nominees received holiday goodie bags and Exchange gift cards.  However, the true gift is the appreciation of the Stuttgart community for all the nominees do.
The USO Stuttgart's Merry Magic 2017 was an inaugural event that will be looked forward to in the future, after all, sharing the magic is what the holiday season is all about.
View the Merry Magic photo album