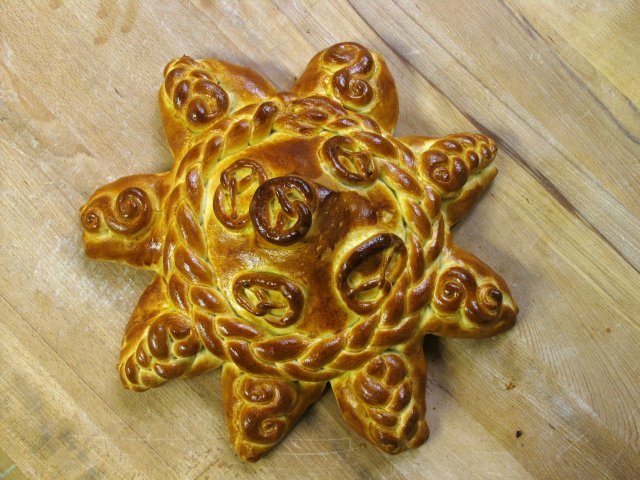 By Teri Weiss
Special to The Citizen
Mutschel – refers to a rather tasty treat that is centerpiece of a delightful custom that originated centuries ago in Württemberg.
The traditional Mutschel was invented in the 13th century in Reutlingen. The yellow yeast dough cake looks like an eight-pointed star with a raised center held together with a braided wreath. Back then, winners of sharpshooting competitions that were typically held on the Thursday after Epiphany, or Three King's Day (Jan. 6), were presented with the bread-cake.
Today, Mutscheln are given to the winners of various dice games. People refer to the games as "mutscheln."
Mutscheln come in all sizes: small, medium and large. A small Mutschel costs around €2, while a larger decorated one may cost between €15 and €20.
Many other towns and regions have adopted the Mutschel pastry and the custom of playing "Mutschelspiele," or games. The star shape, however, is considered unique to Reutlingen and may be baked in this form only there.
The name Mutschel came either from the Old-Middle High German term for a "small pastry" or hails back to Albrecht Mutschler, a baker from Reutlingen who is said to have created and baked the first ones in the late 1200s. Exact details are shrouded in history, though.
There are a number of theories regarding the shape of the Mutschel. Some believe that the eight points represent the eight former districts of Reutlingen and the braided centerpiece represents the Achalm Hill near the town.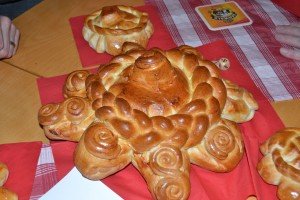 Others think that the eight points honor the eight local craft guilds: smiths, tailors, tanners, cobblers, coopers, butchers, bakers and shoemakers.
Legend also has it, that the pastry commemorates the Stone of the Wise, which the three kings brought to Bethlehem as a gift for Jesus.
The most reasonable explanation could be that the Mutschel represents the logo of the bakers' guild – a pretzel within a mill wheel.
In the course of the past 150 years, the Thursday after Three Kings Day became the dice game competition day throughout Reutlingen's taverns and inns, where participants can win Mutscheln. This tradition kept its solid place among the cherished January events and customs of our Swabian neighbors.
If you wish to partake in this local tradition, Mutscheln are available for the next couple of weeks at most German bakeries in the greater Stuttgart area. Try a Mutschel with coffee or tea, or, as the locals do, with a glass of Riesling or Trollinger wine.
Sources: