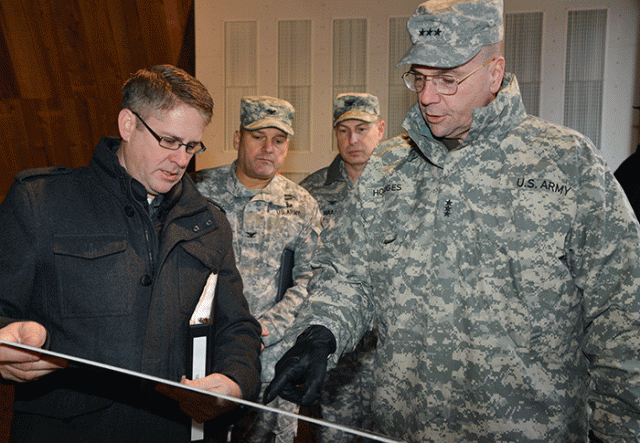 By S.J. Grady
USAG Stuttgart Public Affairs Office
Lt. Gen. Ben Hodges, the U.S. Army Europe commander, visited the Stuttgart military community Jan. 6 and 7, where he got a firsthand look at the Panzer Local Training Area facilities and the school construction projects currently underway.
It was his first visit to Stuttgart since taking command of USAREUR in early November.
Hodges was accompanied by the Installation Management Command Europe acting regional director, Col. Anthony Haager.
Col. John Stack, the U.S. Army Garrison Stuttgart commander, and Heidi Malarchik, the USAG Stuttgart deputy to the commander, accompanied Hodges and Haager on a windshield tour of Panzer Kaserne, followed by a visit to the construction sites of the new elementary and high schools due to be completed by this fall.
The entourage then visited the Panzer Local Training Area range complex where they received a range capabilities brief from representatives of the Joint Multinational Training Command.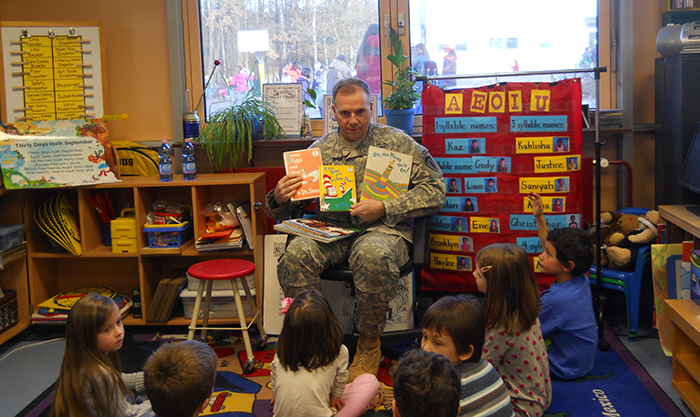 Hodges then headed to Patch Barracks for a tour that included a visit to Patch Elementary School. After a brief meeting with PES student council leaders Jake Blaser and Jordan Haycock, Hodges visited Sandy Stellato's first-grade classroom where he read "The Three Little Javelinas" to the students.
Beverly Erdmann, the PES principal, said she was honored that the USAREUR commander took time out of his schedule to visit the school. "It was energizing to have him here. He was a natural with the students, and they responded to his kindness," she said.
Hodges also toured the Warrior Zone, Patch Youth Center and Child Development Center.
During the visit, Hodges met with senior leaders of U.S. Africa Command, U.S. European Command, and Special Operations Command Europe, and met with garrison officials and military seniors leaders from across the community during a working lunch.