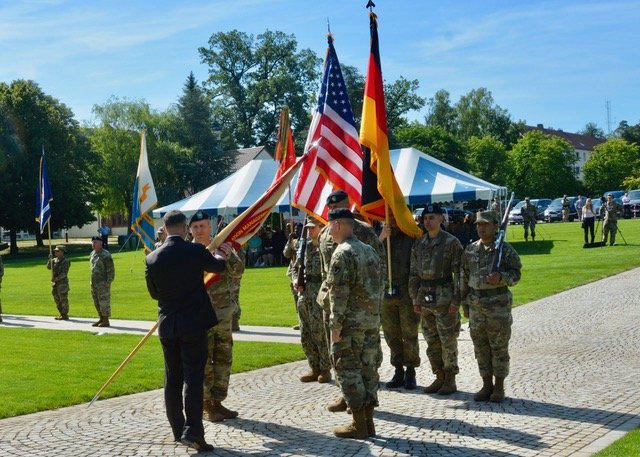 Story and photos by John Reese
USAG Stuttgart Public Affairs
STUTTGART–In a change of command ceremony, Col. Jason W. Condrey assumed command of US Army Garrison Stuttgart from Col. Neal A. Corson, July 10, 2019.
The ceremony, hosted by Director Tommy R. Mize, Installation Management Command Europe, took place under sunny skies on Washington Square, Patch Barracks. A joint-service flying V representing the sister services and major commands of the purple community, under the command of Capt. Carlie Wilson, Headquarters and Headquarters Company, USAG Stuttgart took positions on the field along with a German-American color guard led by Command Sgt. Maj. Toesa Tia, garrison senior enlisted leader. A U.S. Army Europe Band brass quintet playing martial music added a special ambiance to the ceremony.
Mize noted the challenges faced by outgoing commander Corson, including the garrison's support for two four-star commands with a mission footprint stretching to more than 100 countries from the Baltics to Southern Africa.
"It takes a special type of leader to successfully command any garrison," Mize said. "But Stuttgart isn't just any garrison. It is a garrison of immense importance that is the home of  two of the Army's six geographic combatant commands; the US European Command and US Africa Command."
Corson's responsibilities extended beyond the gates of the garrison, where he worked closely with host-nation civic leaders and communities to develop and sustain trusting relationships, Mize said.
"I thank everyone for being here today to celebrate the garrison accomplishment over the last two years," Corson said. "It's been a great honor to be part of the USAG Stuttgart team and a true privilege to have been allowed to lead this amazing organization."
In thanking the local mayors, German military counterparts and garrison team members who supported him during his tenure, including his former battle buddy, retired Command Sgt. Maj. Mariano Z. Alvarez, who flew in from stateside to attend, Corson offered a touching note of gratitude to his wife, Catty, and his daughters.
Condrey arrives to the garrison after serving as the Infantry Branch Chief in the Officer Personnel Management Division, Human Resources Command. He was born in Stuttgart-Bad Cannstatt, and addressed those in attendance in English before repeating his comments in flawless German. He served three deployments to Afghanistan; the West Point graduate was also a fellow at the NATO Defense College in Rome and studied as an Olmstead Scholar in Bucharest, Romania.
"To the leaders, civilians and Soldiers who serve as members of the garrison, you have a reputation for commitment and professionalism that is evident in every effort," Condreay said. "I am thankful to be part of such an incredible team."
Before releasing the color guard to conclude the ceremony, Condrey addressed Corson directly.
"You have been incredibly generous and thoughtful as Meagan and I transitioned here to Stuttgart. Thank you for all that you've done for us and this community," Condrey said. "We wish you the best of luck as you return to Virginia."
The ceremony was streamed on the garrison's Facebook page and by AFN Stuttgart. For more photos, visit the garrison Flickr page.